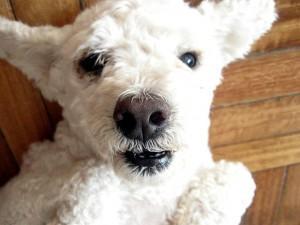 Here in the United Kingdom we are celebrating National Pet Month – and the figures certainly suggest that we Brits are a nation of animal lovers. Research has shown that 48% of UK households have a pet – with 23% of homes owning at least one dog. A recent survey conducted by a social networking website highlighted the attachment we have to our animals, with nearly half of respondents admitting that when they felt blue they would rather hug their pet than a close relative![i]
The fact that many pet owners take great comfort in being with their animals is not surprising. The therapeutic benefit of spending time with friendly pets has long been acknowledged.
We can find an example way back in the late 18th century of animals, including dogs, being used to help comfort those in distress. English Quakers, who ran a retreat for sufferers of mental health problems, realized that letting residents interact with animals had a positive effect on their mood. Quakers observed that contact with animals helped to "enhance the humanity of the emotionally ill".
Another touching example of a dog providing therapeutic comfort can be found during World War Two, when Corporal William Wynne – the new owner of a Yorkshire Terrier named Smoky who had been abandoned on the battlefield on the island of New Guinea – fell ill with a jungle disease and was hospitalized.
Wynne's friends decided to take Smoky to hospital to cheer the soldier up and she proved so popular with the other patients that she was allowed to go on rounds, eventually working as a therapy dog for 12 years during and after the war.[ii]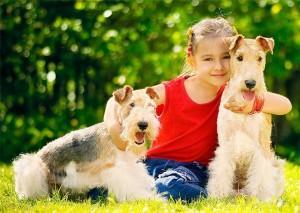 A further example comes from 1970s England when an American nurse named Elaine Smith observed the positive effects a visiting Golden Retriever, who accompanied the hospital chaplain, had on patients. Smith was so influenced by the experience that when she returned to the US in 1976 she founded the first national registry of dogs, Therapy Dogs International.
Today the leading UK charity helping the ill and infirm to enjoy contact with animals is Pets As Therapy. They currently have around 4500 registered dogs, and over 100 cats, who visit care homes, special needs schools, nursing homes and hospices – since the charity's founding in 1983 more than 20,000 dogs have worked for them, visiting more than 130,000 people each week.[iii]
Contact with an affectionate animal helps to lift the mood – and there are real physical reasons why. Studies have shown that stroking a pet can lower blood pressure and reduce heart rate[iv], as well as promoting the release of feel-good chemicals in the body.
The neurotransmitter dopamine may be released – a substance linked to happiness – as well as the hormone oxytocin, which is thought to increase empathy and plays a key role in pair bonding. Contact with a friendly pet such as a therapy dog can also encourage the release of endorphins – neurotransmitters that contribute to a feeling of well-being – and serotonin levels may be raised too, which also helps improve mood.[v]
And as well as the many benefits to humans, of course, therapy dogs also enjoy the affection and attention given to them during their interactions with hospital patients and care home residents!
~ This guest post was written by pet lover and blogger Brit Peacock, on behalf of personal injury solicitors Pannone.
---
[i] http://www.bbc.co.uk/news/uk-22111101
[ii] http://en.wikipedia.org/wiki/Smoky_%28dog%29
[iii] http://www.petsastherapy.org/
[iv] http://www.thepsychologist.org.uk/archive/archive_home.cfm?volumeID=24&editionID=198&ArticleID=1812
[v] http://176.32.230.19/scas.org.uk/wp-content/uploads/2013/03/SCASJournal_Aut10_PetsandMentalHealth.pdf
Tags: dogs stimulate brain, history of UK therapy dogs, UK dogs, UK pet therapy