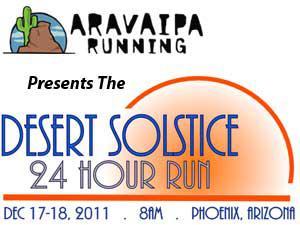 The second Annual Desert Solstice 24 hour took place last weekend, December 17th  in Phoenix Arizona.
An invitational event hosted by Aravaipa Running to provide an end of year opportunity as a qualifier for the 2012 IAU 24 Hour World Championship which will take place  in Katowice, Poland on September 8-9, 2012.
The race took place at Central High School Track in Phoenix starting at 8:00 am.
These are the unofficial results
24 Hour Laps Miles KM
Carilyn Johnson 526.75 130.92 210.7
Tatsunori Suzuki 502.25 124.83 200.9
Nick Pedatella 457 113.59 182.8
Suzanna Bon 451 112.1 180.4
Debra Horn 403 100.17 161.2
Dan Rose 202 50.21 80.8
Dave James 72 17.9 28.8
100 Mile Time
Michael Arnstein 13:46:18
Jay Aldous 13:52:29
http://www.aravaiparunning.com/avr/desert-solstice/
The next event organised by Aravaipa Running will be Across The Years 24/48/72 Hour Race beginning December 29th at its new location at  Camelback Ranch – Glendale, AZ