Cariloha : Hawaiian aloha and Caribbean culture were the inspiration behind Cariloha – a combination of the two. Cariloha's founder and CEO, Jeff Pedersen, spent several years working, serving and studying on the French-Dutch Caribbean island of St. Maarten, the country of Costa Rica, and the island of Oahu, Hawaii. He's spent over 10 years visiting and working in cruise ports and islands throughout the Caribbean, Yucatan Peninsula, Mexican Rivera, Bahamas, Florida Keys, Hawaii, and Mediterranean. He became steeped in the island lifestyle, colors and culture, and the beachfront shopping experience. (Read More) .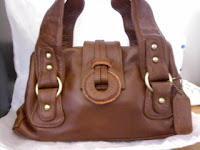 I received the The Leather Straped Brown - Bamboo Lined Handbag $ 90.00 from Cariloha. They had so many amazing products to choose from, but if you have read any of my previous post, then you will know how big of a purse, and hand bag fanatic I am. So Naturally I went for this amazing accessory. The purse I received is alot lighter in color then the one portrayed on the website. But I still love everything about it. some of my other favorites from Cariloha just to name a couple is the Bamboo Misty Jacket in Light Blue/Chocolate  $80.00  $48.00! , Bath Towel Set - Blue $69.00. They look so luxurious, and soft. I have a ton of favorites from Cariloha that you are sure to love. The best of all.. Everything on Cariloha is made of or from..Bamboo! ♥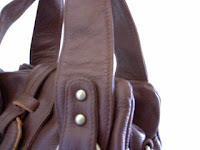 The first thing that attracted me to the The Leather Straped Brown - Bamboo Lined Handbag is the wide chunky straps. I have tons of purses but all my straps are pretty narrow, and skinny. I think the chunky straps gives 1 of many different personalites to this purse that I love. I also love the wide studs that attatch to the straps. It gives it some flair without over doing it and shadowing the straps. I love the rich chocolate of this purse. ♥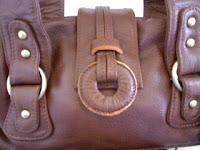 Another thing that gives this purse it's unique personality is the wide pendant that attatches to the magnetic closure strap. It's another one of many things that attracted me to this style of purse. I love purses with unique pieces and this is one that I love. It's boho meets new york styles. It flatters and doesn't compete with my clothing when I mix and match styles, colors, and prints. ♥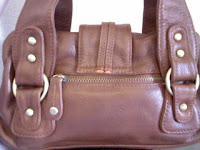 Here is a better view of the amazing studs. I also adore the metal circular attatchments added to this purse, it's a new twist of line of purses that I currently own. I never buy boring plain purses so the metal attachments gives this purse a fancy twist to ordanary plain purses. The back has a zip enclosed pocket for storage, a cash stash, or a easy zip enclosure for your cell phone or wallet. ♥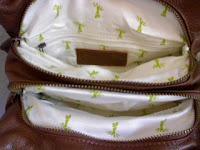 I fell in love with bamboo products a few months ago when I discovered them. Since then I go out of my way to find bamboo related, and bamboo products. I love how eco-friendly it is, how soft the fabrics are, and how unique the products are. Everything on  Cariloha is made from bamboo, and has bamboo related products such as the inner lining of my purse. Do you see the bamboo print? (love). The inner purse has a 2 sided section, one with a 2 pocket lining, and the other is the zip compartment.  Cariloha Has made something already wonderful into something amazing. You will not be disapointed in the products they provide. I already have my eyes on a few things I plan on buying in the near future. for friends, and family. ♥
♥ You can check out the  Cariloha shop : Here
♥ You can find Cariloha on : Facebook
♥ You can find Cariloha on : Twitter
♥ I received no monetary compensation for this review.  I was provided a Cariloha purse to try and give my honest opinion(s).