Happy Tuesday everyone! My blog started out as means of expression and my love (read: obsession) for makeup and beauty products. A few months ago I had the grand idea to re-name and re-design (as much as blogger would allow) my haven to include bloggers from all over the Caribbean (hence the name). I had a hard time finding persons from across the region that shared my interest when I first entered the blogging world but after almost three years, I must say that that demographic has widened. If you scan the tabs at the top of the page, you would notice that I've linked to some blogs by other Caribbean writers/bloggers that I enjoy immensely! One of my favorites is this gorgeous (no joke!!!) young lady who can seriously throw down in the kitchen!! My tummy rumbles every time she makes a post on face- book. She is, quite simply, Tia. Enjoy! And do check out her blog!
Hey T. Thanks for agreeing to appear on Caribbean Beauty Blogger. First of all I must say that your blog is like food porn for me. The pictures are lick-the-screen amazing!! Why a food blog? And what type of camera do you use?
First off Jen, thank you for doing this. I really and truly appreciate you considering to feature me on your blog and I'm honored that you're sharing me with YOUR world and your readers. I hope they will enjoy this post
Food is my life. If anyone says "Food", it's just as good as calling my name. I love to cook, I love to feed people but most importantly I love to eat. Like, LOVE to eat. I'm on a diet every other week. Seriously. This thing is like an addiction. I hear girls talking about going shopping for clothes or shoes, I'm like "O.....K" but put me in a supermarket - Lord have mercy! THAT is my heaven. But to answer the question about a food blog - it started because I had (and still do have) an obsession with cooking or eating out and snapping (photos) and of course, posting to whatever social medium was/is hip at the time. I, being a conscientious person, figured that that was getting annoying to folks, so I decided to take it elsewhere (Wordpress to be specific) and tell fellow humans all about my adventures there. Hence, blogging became a part of [Simply] Tia's life. Cameras - I use a Sony and a Fujifilm point and shoot camera and an iPhone4 camera for my blog posts. I have my eyes set on a Canon Rebel and/or a Nikon D3100 but baby steps for now.
So, we know you're from the Caribbean. Which island do you represent? And how does this influence the way you cook?
Hold your breath folks and I am being as objective as humanly possible. Don't feel I'm being partial or showing any type of preference. After all, facts are facts. So, with that being said, I'm from the most beautiful, idyllic, serene place on Earth - Saint Vincent and the Grenadines. I now reside in the United States and annoy every one I come across by telling them how magnificent this place is. Have you been? No? You should totally go! After-all, it's the gem of the Antilles.
But all jokes aside though, now that I live in the United States, I rep the Caribbean. You should hear me talking about West Indians. I am like a proud mother. I don't care what island a person is from, from the minute I hear a little accent - "That's my people!". I have visited several of the Caribbean islands and our region has some of the friendliest, most hospitable and sincere people I have ever met and known. Not to mention how ambitious, kind hearted and hardworking they are. So I don't just rep St Vincent. I represent the entire region. I'm a WEST INDIAN!

With that said, that means I cook it all or have cooked it all. Curry chicken, jerk chicken, stew beef, fried fish, roti, peppered shrimp. Name it, I've probably cooked it. The issue that I am facing now is that I'm married to an American. A Southern American. No not someone from South America. I'm married to someone from the southern part of North America. Hahaha. (I crack myself up). Anyways, he likes his Southern food and all the good things my mother in law used to cook up for him so I try to balance out my cooking with West Indian food, Southern food and then everything else so that everyone (that would be me and him) would be happy. So when people ask: what's your speciality cuisine, I just say I cook everything. Besides, I don't want to be limited to one type of cuisine. If you come to visit me (my blog), you would never see an host of West Indian dishes. Mommy used to always say "Yuh can't eat peleau everyday" meaning, you have to have variety and have to switch things up. It's important so that monotony doesn't set in. 
 If you could make/eat one dish for the rest of your life, what would it be?
Créme Brûlée. I don't want to start preaching so I will leave it right there. If you've never had it. Try it. Soon!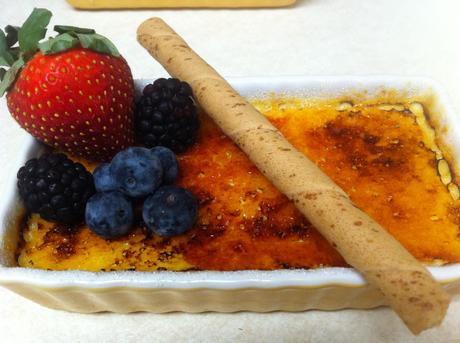 Eggs? Fried or Scrambled?
Scrambled. Why "separate" stuff? Let's just mix it all up to the point where we don't know what's what.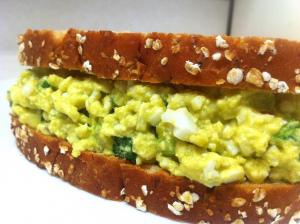 Chocolate covered strawberries? Yummy or Yuck?
Yummy! I just made some for Valentine's Day. They were a big hit with hubby and me. Well maybe more a hit with me. I ate 98.6% all by myself. And that's not what you call greed....that's what you call talent.
When eating a salad, what type of dressing do you prefer to use?
Dressing? Uh - I'd have to make my own and it'd be a balsamic-maple vinaigrette. I try to stay away from the egg based dressings. I prefer to save my calories for more important stuff.......like buffalo wings.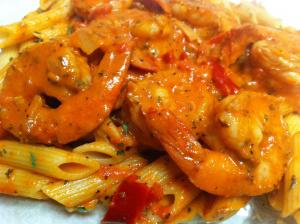 Peanut Butter? Creamy or Crunchy?
Creamy! I generally love crunch(y) textures but not in my nut butter.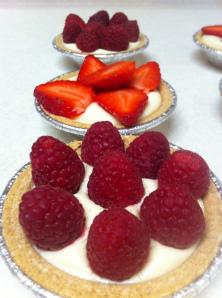 Pasta or pelau?
That's like asking air or water? I can't survive without either but gun to my head - I'll go with pasta........in a nice cheesy macaroni pie
Name one food you miss from 'home'?
Without a doubt - BREADFRUIT. *in my accent* They find ways to bring up all kinda ting from di islands but I catching mi royal to get breadfruit. I tyaad eat saltfish with rice. It's just not right.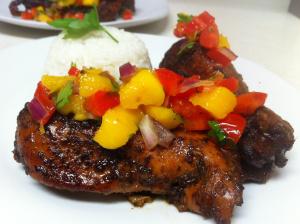 And last but not least
When are you gonna cook for me???
I'll be home later this year. I'll start planning a 5 course menu for you from now!
Arrrrg! I can't wait!!! 
Want more of Tia? Follw her at her blog i am simply tia and get to drooling!