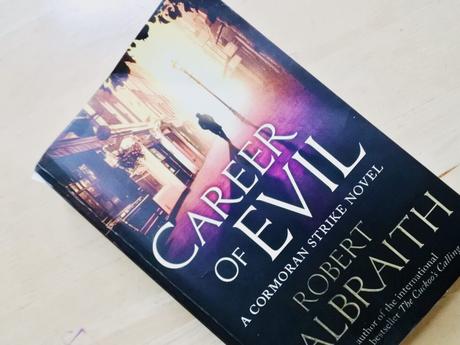 When I first read Harry Potter, I wasn't too impressed. If I remember right, it took me until The Prisoner of Azkaban to actually get on to the Harry Potter bandwagon. Now reading the Cameron Strike series by Rowling/Galbraith, I find myself having a similar opinion.
I didn't care too much about the first and second books in the series - The Cuckoo's Calling and The Silkworm, but now after reading Career of Evil, I think I am finally getting into this series as well.
The Plot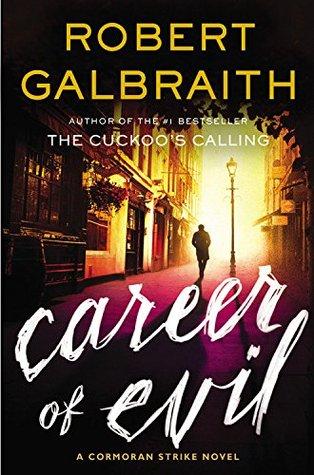 When a mysterious package is delivered to Robin Ellacott, she is horrified to discover that it contains a woman's severed leg.

Her boss, private detective Cormoran Strike, is less surprised but no less alarmed. There are four people from his past who he thinks could be responsible - and Strike knows that any one of them is capable of sustained and unspeakable brutality.

With the police focusing on the one suspect Strike is increasingly sure is not the perpetrator, he and Robin take matters into their own hands, and delve into the dark and twisted worlds of the other three men. But as more horrendous acts occur, time is running out for the two of them.

~ Synopsis from goodreads
My Review
I don't know why I liked this book so much more than the others in this series. I suspect it's because I've gotten used to the formula - the heavily descriptive style of writing, the setting of London, detailed inner thoughts of both Strike and Robin, and the denouement style of uncovering the culprit. I had found all these aspects a bit cliched in the earlier books, but the same aspects worked fine for me in Career of Evil.
One new thing that I loved was that unlike The Cuckoo's Calling (that dealt mainly with the modeling industry), and The Silkworm (based on the publishing industry), this book didn't really deal with a specific industry. There is a specific theme though, and Career of Evil mainly deals with violent crimes against women.
I also loved how the personal lives of Robin and Strike are interwoven into the mystery, and how their personal thoughts color the way they view how the case should be handled. I also liked that there was some detailing to Robin in this book. She was pretty much a silent enigma in the earlier books. Here, she comes into her own, has her own mind, and speaks it, standing up to both Strike and her fiance Mathew, when they attempt to tell her what to do.
There were some parts of Robin's story that were disappointing though. Robin's backstory is fleshed out well, but it is extremely unimaginative. I found I had guessed Robin's past in the second book itself, and I really wanted to be surprised, but I wasn't.
What I did enjoy is how Robin and Strike set out to catch the serial killer who is amputating the bodies of his victims. There is a good amount of detective work, and I liked that we could follow along with their deductions and guess the culprit along with them.
I also enjoyed in a grisly half-repulsed and half-fascinated way, the insight I got into body integrity identity disorder, which is a mental condition where people want to cut off parts of their body. Until I read this book, I didn't even know such a disorder even existed. See, this is how I improve my general knowledge 🙂 .
Anyway, based on this last paragraph, you would have gotten a hint that this book gets gory in places. And I'd like to tell you that it gets extremely gory, much more so than her earlier books. The Cuckoo's Calling and The Silkworm also had their moments, but the crimes in those books were too campy to take seriously. Career of Evil is much more a conventional crime thriller, and I like this change in direction of the series, and am definitely looking forward to reading more of these books.
Have you read the Cormoran Strike books? What do you think of them as compared to regular thrillers such as those by Michael Connelly, Jo Nesbo, and such?

You can also buy a copy of this book from Amazon.