Cardinal Sins
Part 1
and
Part 2
were on Defense and Offense respectively.  Here's a separate one for pitching.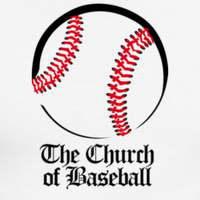 Click HERE for a site that sells
a t-shirt for this design.
A come-backer to the pitcher and he does not know who he's throwing it to at second base on a double-play.  The middle infielders and pitcher work that out before the batter even gets a chance to hit.
Failing to cover first base on a ball hit to his left.  You're worthless standing on the mound.
A four pitch walk.  Great pitchers make the adjustment after the first bad pitch, not after the 6th or 7th one. 
Two quick outs and walks the next batter.  You just shifted the momentum back to the offensive team.
A lead off walk.  Asking for trouble.
Failing to back up bases.  Sheer laziness.  There is always a place to be.
An 0-2 pitch down the middle.  Lack of concentration or a gameplan.
Getting visibly angry at fielders after errors.  Saying "Don't worry, shake it off, this next one's coming right back to you" would be much better.  Never show-up your teammates.
Allowing questionable calls by umpires effect your performance.  The mark of a great player is handling adversity better than the average one.
Not warming up properly and being less than full strength at the first pitch of the game.  The first pitch you throw might very well be the pitch the determines the outcome of the game.  Be 100% the moment you step on the mound.