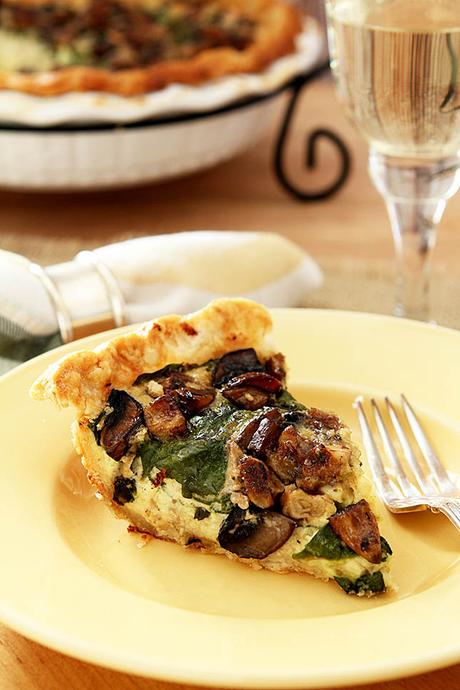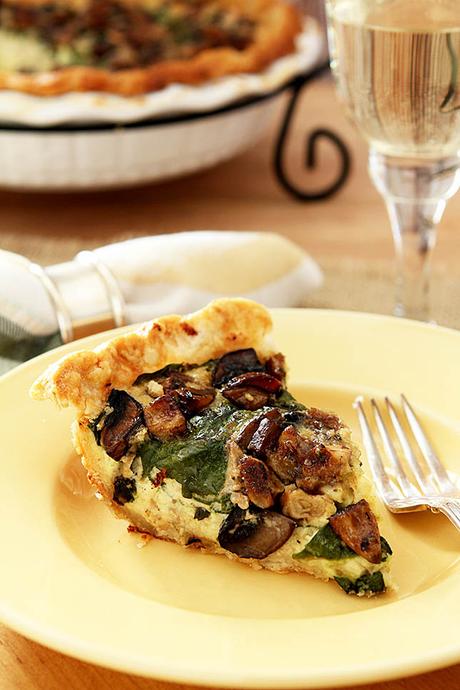 I used to regularly make recipes from the pages of Bon Appetit Magazine, most often from their RSVP section where they share restaurant recipes requested by their readers. But I've gotten out of that habit; mostly because I have yet to catch up with the pile of magazines I didn't get to when I was in my period of 'housing transition' (sounds so much better than homeless doesn't it?). The room I stayed in at a neighbors until my new home was complete was just not conducive to reading so the pile grew and while I moved here last year with the best of intentions; the first few months were too hectic to get to them and I think it's now time to give up the ghost; way too much on my plate; heck I haven't completely unpacked yet and it's been over a year!
So instead I'll relegate those months worth of issues to the basket on my coffee table and just start fresh. I picked up the February issue to peruse last month and as much as I love RSVP; I got no further than the front cover. Everything I love in one dish so how could I not make February's Caramelized Garlic and Spinach Tart? Modifications R Us though as you know and with a package of mushrooms in the fridge that were crying to be used; my version turned into a Caramelized Garlic, Spinach and Mushroom Tart and it was absolutely, completely and divinely divine! I liked it; can you tell?
Thought they call this a tart, I would have most likely referred to it as a quiche; it has all the components of eggs, milk and cheese. But to make certain I did reference descriptions of each dish and truth be told it could be called either. Quiches are savory and include milk, eggs and cheese; tarts can be sweet or savory and the addition of those three elements is not mandatory so in my book I would still say quiche but I'll acquiesce this one to BA; it's their idea!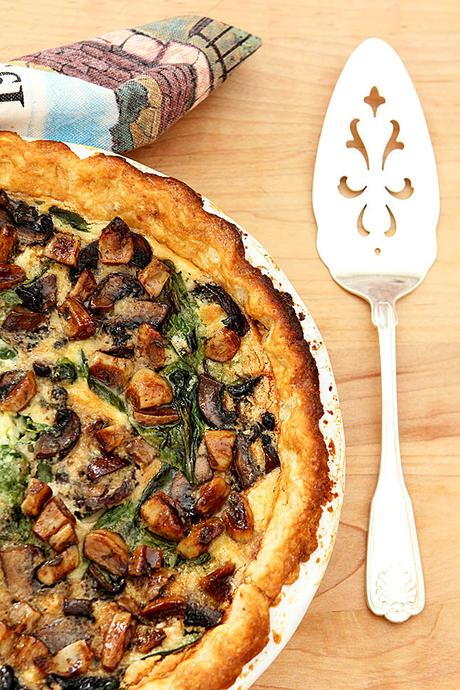 The cover photo included a very cool braided decoration for the crust. My first thought was, 'how pretty' followed by my second thought of 'you must be kidding!' - It looked perfect but I could not figure out how they got it too look SO perfect since the braids were in three pieces and would have to be combined together as it roped around the pie plate. I'm betting it was the magic of Photoshop and I knew I didn't want to go down that rabbit hole so it was plain old regular crimped crust for me and no regrets!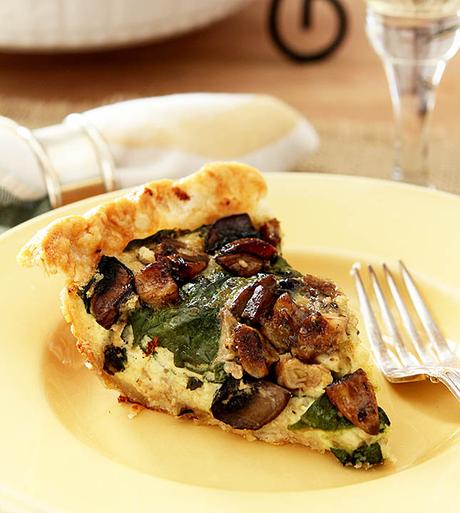 If the thought of a head of garlic scares you; don't let it. As the garlic is cooked it softens and not only is the potency lost but it develops a beautiful sweet flavor; much like what happens to onions. This is one dish I did not share; nope...it was MINE ALL MINE!! I highly suggest you make this for yourself too. Better not invite me over.

Caramelized Garlic, Spinach and Mushroom Tart
Pie Dough (I've included a link for the BA recipe in Notes or use your own)
All-purpose flour (for surface)
5 large eggs
3 heads of garlic, cloves peeled
Kosher salt
1 tablespoon olive oil
1 tablespoon balsamic vinegar
1 tablespoon pure maple syrup
1 teaspoon chopped fresh rosemary
1 teaspoon chopped fresh thyme
Freshly ground black pepper
1 Tbsp butter
8 oz button mushrooms, sliced
6 ounces sharp white cheddar cheese, grated (about 2 cups)
2 cups baby spinach
¾ cup crème fraîche
¾ cup heavy cream
Place a rack in lower third of oven; preheat to 350°. Roll ou disk of dough on a lightly floured surface to a 14" round. Transfer to a 9"-diameter pie dish. Lift up edge and let dough slump down into dish. Trim, leaving about 1" overhang. Fold overhang under and crimp. Freeze 15 minutes.
Line dough with parchment paper or foil, leaving some overhang. Fill with pie weights or dried beans. Bake until crust is dry around edge, 25-30 minutes. Remove parchment and weights and brush entire crust with egg. Bake until crust is dry and set, 10-15 minutes. Let cool.
Meanwhile, cook garlic in a medium saucepan of boiling salted water until beginning to soften, about 3 minutes; drain.
Wipe saucepan dry and heat oil in pan over medium-high. Add garlic and cook, stirring occasionally, until cloves start to turn golden brown, about 2 minutes.
Add vinegar and 1 cup water and bring to a boil. Reduce heat and simmer until garlic is tender, 10-12 minutes. Add maple syrup, rosemary, and thyme, and season with salt and pepper. Cook, stirring occasionally, until liquid is syrupy and coats garlic, about 5 minutes.
Melt butter in a skillet; add sliced mushrooms and saute until juices are released and starting to brown.
Scatter cheese over crust; top with spinach and mushrooms. Whisk crème fraîche, cream, and remaining eggs in a medium bowl; season with salt and pepper. Pour over spinach. Scatter garlic on top with any syrup. Bake until custard is set and golden brown in spots, 35-40 minutes. Let cool on a wire rack.