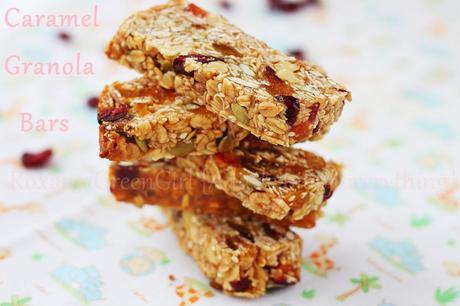 After more than 2 years of being a SAHM I find myself in need of more "adult" talk. Hubby's working all day so I reached out to some wonderful moms in the community for play dates and "adult" talk.
We went out a couple of times. I'm having such a great time. I hope there will be many more play dates in the future.
Sometimes we decide to spend a couple of hours at the park and we have to pack a snack.
Some bring a piece of fruit, some biscuits, some a couple of sandwiches. And there she is, the mom that brings cookies! I'm that mom!(wasn't that hard to guess, was it?) I mean, I already confessed about Chocolate Chip Cookies and Chocolate Almond Cookies.
Yesterday we were planning to meet again.
So I get up bright and early, took some oats, fruit and nuts out of the cupboard and decided to make some granola bars.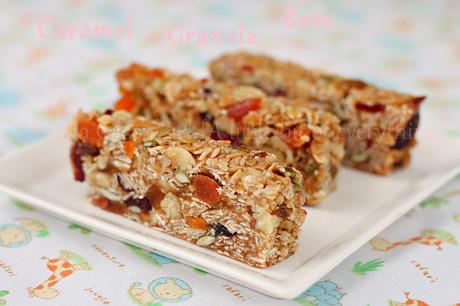 Granola bars are so versatile. You can add whatever fruit/nuts/seeds you have handy.
Mine had oats, golden raisins, cranberries, apricots, walnuts, pumpkin seeds, sesame seeds and coconut.
The hardest part, when making granola bars, is to wait for them to completely cool before cutting them.
After keeping the pan a couple of hours in the fridge I cut them into bars, pack them in treat bags and had my fingers crossed the other moms would still tell me when a play date is scheduled.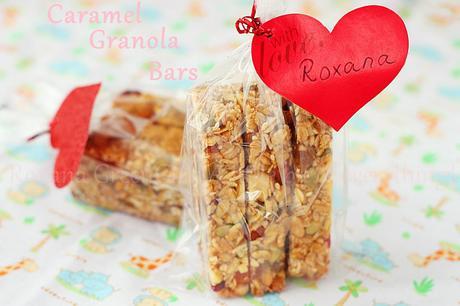 Now you'd think we give each other a big hug, they forgive me for bringing the cookies and live happily ever after.
Wish I could tell you so. But the moment I got out of the house it started to rain. No play date. No big hugs.
I still wonder if I had made cookies it had rained. That question will be on my mind for quite a while.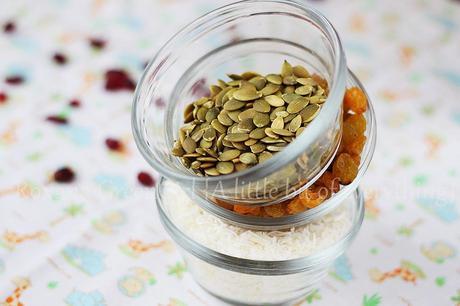 Print Caramel Granola Bars
Prep Time: 15 minutes
Cook Time: 15 minutes
Total Time: 30 minutes
Yield: 32 bars
Ingredients
3 cups rolled oats
1 tsp cinnamon
1 tsp salt
3/4 cup walnuts
3/4 cup golden raisins
3/4 cup cranberries
3/4 cup chopped apricots
1/2 cup coconut flakes
1/2 cup pumpkin seeds
2 tbsp sesame seeds
1 cup ground walnuts
3/4 cup butter
2/3 cup honey
1 cup raw sugar
Instructions
Preheat the oven to 375F.
Line a 11X7 baking pan with parchment paper. Set aside.
In a bowl mix the oats, cinnamon, salt, fruit, seeds, walnuts and coconut flakes.
In a sauce pan add the butter and honey. Heat gently until the butter has melted.
Add the sugar keeping the pan over the lowest flame your stove has. Stir constantly until the sugar is completely dissolved. Bring the mixture to a boil, and continue to boil for another minute or two constantly stirring the mixture until it has formed a smooth caramel sauce.
Pour over the dry ingredients, mix with a wooden spoon and scoop it into the prepared pan.
With the back of the spoon or of a measuring cup press down the mixture.
Bake for 15 minutes until the edges begin to brown.
Take it out of the oven, let it cool slightly and then chill in the fridge for a couple of hours.
When completely cooled cut into bars.
Notes
The bars turned out a little too sweet for my sweet tooth. I'd replace 3/4 cup fruit with 3/4 cup nuts or seeds. Recipe slightly adapted from Cookies and Bars
Google Recipe View Microformatting by ZipList Recipe Plugin1.4http://www.roxanashomebaking.com/caramel-granola-bars/
Sending love your way,
Roxana
Pin It
Facebook Comments