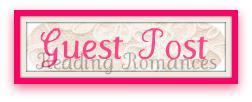 Thank you very much for letting me stop by today and chat with you. I appreciate it. I wish you all a bright and merry Christmas and a Happy Chanukah! Today, I'm going to introduce you to my hero, Simon, from Lady Northam's Wicked Surrender. I thought it would be fun to let Delphine (my heroine's sister) do the honors of interviewing him.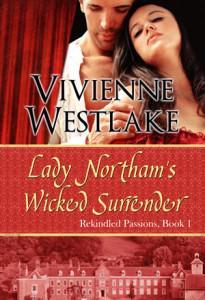 Delphine:
So let me tell you the delicious story of how my sister, Rowena, landed a Viscount. Well, when she first met him, he hadn't a chance in hell of inherit–
Simon: (laughing) Delphine! I hardly think that information is relevant.
Delphine: A different question then. Do you often stumble into ladies rooms–in the dead of night–with lascivious intentions? Hmm?
Simon: I have only done it once and she is now my wife. On to the next question.
Delphine: My sister likes to talk about what wonderful hands you have. Just what do you do with those fingers?
Simon: The best place for a man's hands to be is on his lover's skin, learning the lines and curves of her body. Teasing and testing her, pushing her to to the limit of sensibility. And only then, giving into her desires.
Delphine: So where did you learn this? What exactly haven't you told Rowena? I know there is a story behind this.
Simon: It is a man's duty to appreciate a woman in every way he can.
Delphine: Smart response, though you evaded answering my question. Did you learn this in a brothel? Or perhaps they teach these things in secret clubs at Oxford and Cambridge?
Simon: (crosses his arms and clears his throat)
Delphine: Fine. I am not asking on my own behalf, dear brother. I ask for the education of our readers. Since you will not accommodate us, let me pose a different question. How is it that a virile man such as yourself would wait eight years for one woman? I cannot believe that you did not marry when you had the chance. Six years in India must have been quite lonely. If I had been in your place, I certainly wouldn't have forgiven Rowena when she married my best friend. After all–
Simon: Being angry with someone and forgetting them are two different things. I never forgot Rowena.
Delphine: I see. You were so angry with her, your imaginings of revenge kept you through those awful hot nights in India. How you bore that incessant heat is beyond me.
Simon: (rolling his eyes) We are not here to discuss the temperature in India. And no, I did not spend my nights imagining revenge. My thoughts of Rowena were altogether of a different nature.
Delphine: Are you saying that anger kept your desire alive?
Simon: Can you be angry about something for which you have no passion? If I did not love her, I would not have been angry.
Delphine: Dear Reader, I think the lesson here is to incite such anger and passion in a man that he will be so incensed he can think of no one else. He shall remain devoted to you forever.
Simon: I think the lesson is to never agree to sit through another interview with your irritating sister-in-law.
Thank you to Simon and Delphine for stopping by and agreeing to do the interview. For more information about them and to see just what happened the fated night that Simon stepped into Rowena's room, please check out Lady Northam's Wicked Surrender.
What is your favorite thing about alpha males? Or, if you love beta guys, tell us why!
***
Lady Northam's Wicked Surrender
(Rekindled Passions #1)
by Vivienne Westlake
Website | Blog | Facebook | Twitter
October 26th 2011 by Vivienne Westlake
A midnight encounter between two estranged lovers rekindles a passion beyond their wildest dreams…
Rowena, Countess of Northam, is surprised to find her former suitor has returned from India and is on his way to the very house where she is staying. When he appears in her room late at night, she can only believe it is a dream. Her fantasy soon becomes reality when Simon makes every effort to seduce her.
Despite his six year absence, and the fact that Rowena married his best friend, Simon is determined to have her back now that she is a widow. It soon becomes clear that while her body craves his affections, she doesn't trust him enough to give her heart. Can Simon forget her past betrayal and convince her to surrender to the greatest love they've ever known?
Amazon, Barnes & Noble, All Romance eBooks, Apple, Sony, Kobo, and Diesel
Read an excerpt
***
(Don't forget Vivienne is giving away a $10 amazon gift card for the ROMANCING CHRISTMAS GIVEAWAY!