Eric and Sookie Lovers… I need your help.
I have not seen "Magic Mike", nor do I have plans to do so. But… when I stumbled across this screen cap from True Blood's "Hopeless" in Season 5, my first thought was "Looks like Joe is getting ready to improv a Magic Mike moment".
Save me.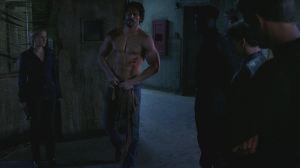 So… your mission is to help make me laugh… and Caption This!