The folks at HBO shared with us the 1st episode of True Blood's 5th season this past Sunday night. Giving us more to discuss and more importantly more to caption.
I admit, I was a bit distracted by a certain someone who is Tall, Blonde, and Viking when checking out screen caps… that I didn't want to completely distract any of you from thinking of a caption.
With the episode title "Turn! Turn! Turn!", I am pulling this offering from the last scene of the episode… plus it has Sookie and Pam.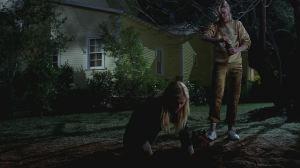 Can you top Pam and Sookie in the one liner department?