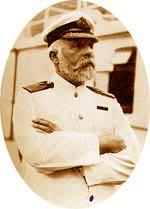 Captain Edward John Smith, (27 January 1850 – 15 April 1912) was an English naval reserve officer, and ship's captain. He was the officer in command of the RMS Titanic and died when the ship sank in 1912.
There is one account that states he carried a child to the overturned collapsible B after the sinking and swam off to freeze in the water. This report is inaccurate.
Smith was in the Wheelhouse when he died. Wheelhouses are the small enclosed parts of a bridge which historically held the ship's steering wheel. The steering wheel, compass, engine order telegraph, and chart table are located here. Today, ship bridges do not have a separate wheelhouse.