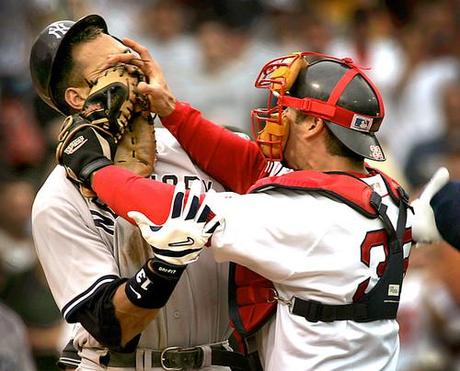 Jason Varitek will indeed be calling it a career, and will be doing it on Thursday at JetBlue Park.
Tek calls it a career after 15 seasons, and only Carl Yastrzemski, Ted Williams and Jim Rice played longer on the Red Sox without playing for another team.
It was clearly time for the Red Sox catcher to call it a career. He will stay on with the club in a capacity that has not yet been announced. I would guess that the Sox will have a day for Tek in 2012, either with or without the also-retiring Tim Wakefield. They should both have their numbers retired as well.
Thank you, Tek, for 2004 and 2007. But thank you especially, for the iconic image shown on this post. No need to explain it, you all know when and where it happened. You'll be seeing a lot of this photo over the next few days.
And that certainly isn't a bad thing.