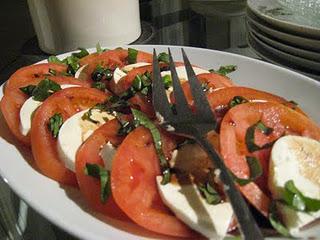 Photo credit: sinfultommaso.com
I love the Insalata Caprese, and for a recent party I had, I made a variation of that – Caprese Salad Skewers. The Insalata Caprese is a simple salad made with tomatoes, mozzarella cheese and basil, usually drizzled with balsamic vinegar and extra virgin olive oil. I first had it while on vacation in the French Riviera and for one who was not a big fan of tomatoes, I was hooked! It's great for summer because the ingredients are in season and also because it is light, simple and tasty.
It is unclear if the salad actually originated on the island of Capri, but it became popular after being served there to King Farouk of Egypt during the 1950s. 
Over the years, I have made various versions of this salad – including cubed, grilled, and other incarnations. To make this salad appropriate for my party, and convenient to eat – since I was serving only hors d'oeuvres and cocktails – I made a skewered version. And for a humid Floridian summer evening, what could be better than a refreshing salad on a stick?
Here's what you need:
Ciliegine or 

bocconcini

 mozzarella (cherry-sized fresh mozzarella balls), drained
Cherry tomatoes
Fresh basil
Extra virgin olive oil
Balsamic vinegar
Fresh cracked black pepper to taste
Sea salt (or even better, Fleur de Sel!) to taste
Bamboo skewers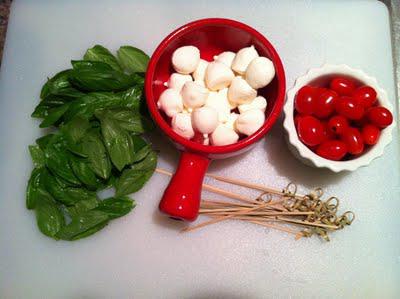 Wash and separate the basil leaves and wash the tomatoes. The tomatoes should be firm and preferably unrefrigerated.Skewer the mozzarella and tomatoes with a basil leaf folded between them.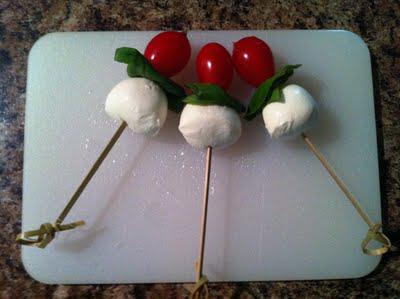 Drizzle with olive oil and balsamic vinegar and sprinkle with salt and pepper to taste. (As a variation of that, I prepared a balsamic vinaigrette for dipping, instead of drizzling it over). You could also try a balsamic reduction, if you're that adventurous, for bolder flavor.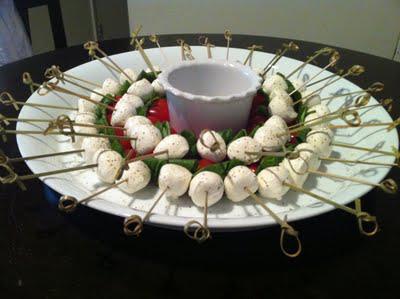 And that's it! Caprese Salad Skewers – a great, light, salad that is easy to make, fun to serve and fun to enjoy! Paired with a crisp white wine, this just right when you want something quick to make a great impression. Let me know if you try it and how your guests like it….
Warm regards,
The Lifestyle Maven™