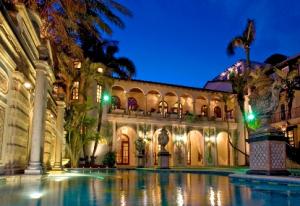 So Gianni Versace's Miami mansion hasn't been able to sell even though the price was slashed from the original asking price of $125 million to $75 million. It is now scheduled to be put on auction in a few months.
Versace's style was influenced by Andy Warhol and combined elements of high style and pop culture in his creations and loved creating spectacle. Nothing was to lavish or too provocative – the bigger the better. Famous people who frequently wore his clothes included HRH Lady Diana, Princess of Wales, Elton John, and Madonna to name a few.
Gianni Versace's Miami home – Casa Casuarina – was nothing less than opulent. He bought it for $10 million and spent an estimated $33 million to make it his palace. It sold for a song at $20 million after he died. It would make a fine 'trophy mansion' for the next millionaire who will buy the 23,000 sq. ft. home replete with 10 bedrooms, 11 bathrooms, seven fireplaces a 12-car garage and a pool lined with mosaics and 24-carat gold….
I wonder who the next owner will be….