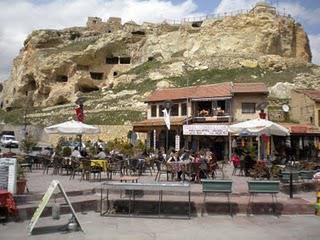 We started the day with a stroll around beautiful downtown Urgup.  It's a small village like many others in Kapadokya, but its whimsical clock tower is unique.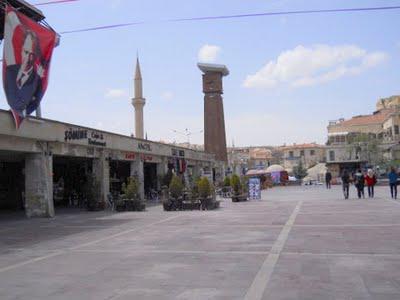 In case you forgot, this is the reference: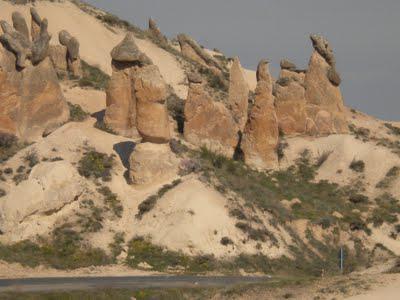 The "fairy chimney" on the right is the look the clock tower was going for.  I think it was pretty clever.
There isn't much else to see downtown, so we decided to take a cab to Mustafapasa, another village only 6 kilometers away.    The cabdriver offered to give us a tour rather than drop us off, so we could see more and walk less.   Unlike Sagit, the professional tour guide, Mehmet spoke only minimal English.  So I sat up front and translated the explanations to my parents.
Mustafapasa had been a Greek village, and was deserted in 1923 when Greeks living in Turkey and Turks living in Greece were relocated.  The fascinating novel "Birds without Wings" tells the story of a town like this.  Turks and Greeks had been living peacefully as neighbors for centuries, but their Governments forced them to separate and fight each other.  I read the novel before I had even thought of moving to Turkey, and I'd like to reread it now.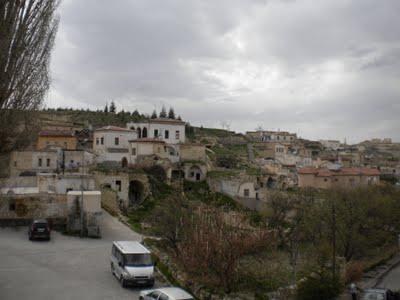 Mehmet also showed us where he was born and grew up without electricity, heat or indoor plumbing.  The area has certainly changed a lot in the last 50 years.  It's hard to believe they've gone from no electricity to internet and satellite TV in that short time.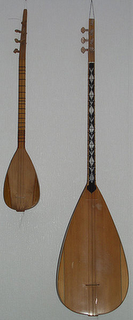 Saz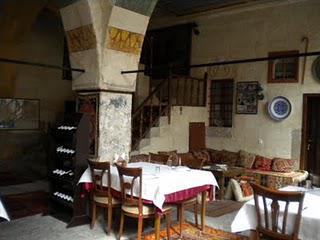 Mehmet also showed us where he'd played saz the night before. ( The saz is a plucked stringed instrument.)  It was a beautifully restored Ottoman house used as a hotel.                                         
                                      There are remants of several old churches in this area, some of which are mostly intact.  There are also Roman ruins, including a bath with some mosaics.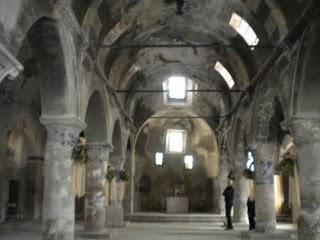 The best preserved church.
Some of the cave-churches required a bit of a climb: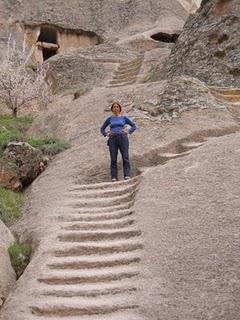 Sometimes the climb was rewarded with a frescoed wall or ceiling: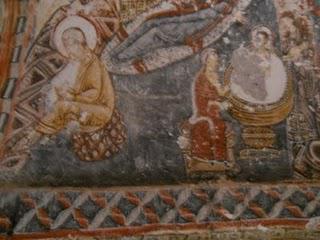 But to be honest, after a while the caves all look alike.  Mehmet was determined to show us all the church ruins in the area, including another Snake Church with a Fresco of St. George and something called "Church of the Buckle".  I still haven't figured out what they were going for with that translation, and I forgot what was written in Turkish.  If anyone has an explanation, please leave a comment.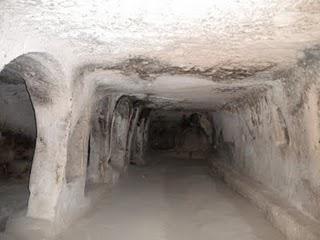 A cave.
After all this walking (and climbing) we were tired when we got back to the hotel, but after a couple of hours' rest we were ready to go back into town for dinner.  We went to the front desk to request a taxi, but Mehmet was already there.  (It's a small town, so there are maybe half a dozen cab drivers .)  When we got to the restaurant Mehmet wouldn't take any money for the cab ride, since he was driving back anyway.  How's that for scrupulous honesty?  And there are people who think everyone here is just looking for an opportunity to take advantage of foreigners.  It's true there's a lot of that in Antalya in the tourist areas,  but many of those people came to Antalya specifically for that purpose.  Here, although the area is a major tourist attraction, the people who live here were born here and are proud of their home towns.
Back in Antalya the cab driver from the airport struck up a conversation, and I guess my guard was down after the good experience in Kapadokya, but he soon got to "You can teach me English and I'll teach you Turkish".  Even worse, he kept asking me where I lived as we approached my parents' hotel.  Fortunately I was having dinner at the hotel so he didn't get the opportunity to drive me home.   
Alas, no more fairy chimneys and smarm-free cab drivers.  Back to reality in Antalya.  Which is still not a bad deal: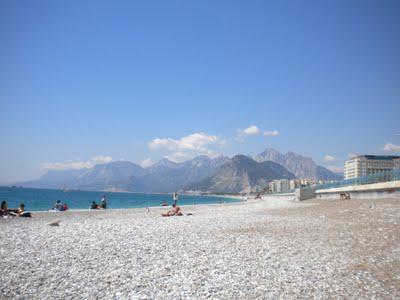 Baki Beach, in my neighborhood.