Mom and I somehow managed to wake up in time to be picked up at 5:20 AM.  We were taken to a field where tea, coffee (well, nescafe) and pastries were offered.  This helped us wake up a bit, and then it was time to watch the balloons being inflated (memories of the night before Thanksgiving in New York and preparations for the Macy's Parade).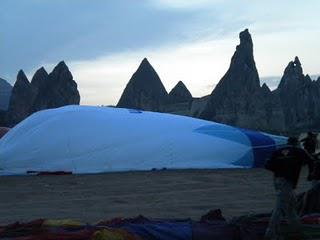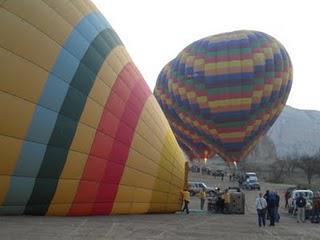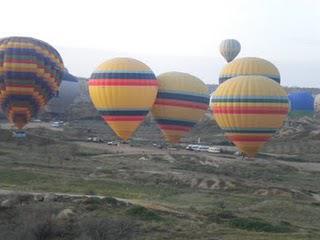 There were many different colored balloons, as each company has its own design.
The passenger area of the balloon is a basket divided into four sections.  When it was time to get into the balloon, everyone except  Mom and me rushed to the front,   By the time it was our turn to climb in, there was no room.  The space was designed to hold four people per quadrant, but three large people filled the sections mom and I were supposed to join.  No matter, we were forced in among the over-sized Australians.  At least I didn't have to worry about being cold, or falling down.  I was well insulated and couldn't move.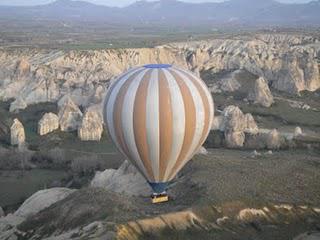 This restricted my picture taking a bit, but I still got a few good shots.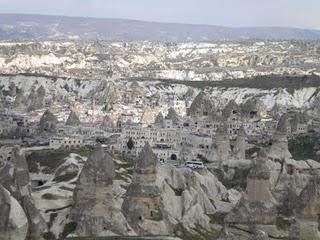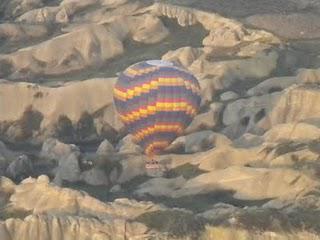 I couldn't even feel the balloon moving; it was more like a gentle floating.   The only distraction was the sound of releasing the hot air (which looked like fire) into the balloon every so often.  That was quite loud, and for those who got into the balloon first and were near the center, quite warm.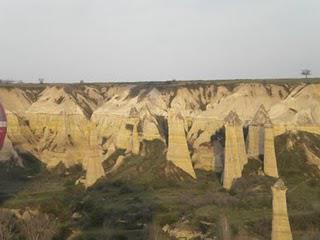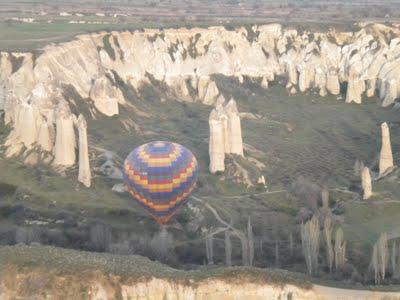 After the ride, we got back to our hotel at 8:30 AM.  I think this is the only time in my life the major activity of the day was completed by that hour.  Anyway, we went to breakfast and enjoyed the usual cheese, tomatoes, cucumbers, olives, bread, eggs and tea.  "Coffee" is available, but it's actually instant coffee, known here as Nescafe.  A year ago a said I couldn't imagine ever knowingly ordering an instant coffee, but by now I've actually done it a few times.  At a cafe or decent restaurant I always opt for the Turkish coffee, which is similar to expresso (except for the grounds at the bottom of the cup).
After breakfast, we relaxed on our balconies and read until lunch.  So it was just like visiting my parents at home.  Since we had no other activities planned, we decided to go into town for lunch.  Town is not a long walk from our hotel but it's a steep one on uneven rocks, so we took a cab.  We walked around the town square a bit and ate at a simple kebap house.  We were surprised to find all sorts of credit cards pictured on the door and inside, but I was not surprised that the restaurant didn't accept any of them.  False advertising is not really an issue here.  There's no point asking for an explanation of these discrepancies; all you'll get is a shrug.  The restaurant wasn't expensive, so it was no big deal.  For my parents it was amusing in the way the hotel technician in Antalya amused them when he fixed their air-conditioning by opening a window.