Good day all,
Property counters took a big hit on Monday as the news of cooling measures sank in over the weekend. I told myself that there was a chance that the sell-offs may be a knee-jerk reaction. Why? As a chartist, I have been observing the steady climb in property shares over the last year or so. I even participated and made abit of money from the quiet rally by the property counters. As every Singaporean should know, we have so little space to build anything on. The seemingly unstoppable increase in property prices has been popping up in news articles over the years. Along with that, we have economists, property gurus, and such people warning of government intervention to cool down the market. And that, will obviously have an impact on the share prices of property developers. So let us face it, the recent intervention is no surprise. And further measures will be taken as long as property prices continue to surge skywards.
As I read the news of what new measures are being implemented, I thought to myself: is the property counters rally in vain? Is the market that naive to think our developers do not face a "political risk"? Keppel Land rose almost 80% in 2012; Capitaland rose 60%; and smaller companies like Ho Bee put in a good 80%.  Surely an element of possible government intervention was priced in already. I told myself that it should not come as a surprise if property counters dive on heavy volume, only to recover and fill in any gaps made on charts. Take a look at the chart below to see an ideal example of a gap being filled. Whatever happened to cooling measures?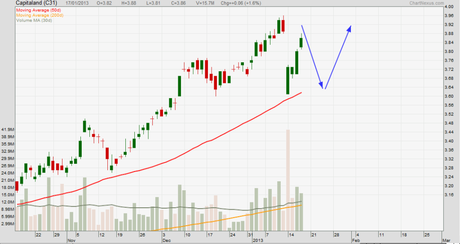 I casually flipped to other charts to see how the other counters were doing. To my horror – shock, rather – the other property stocks that I saw have yet to fill theirs gaps! Why?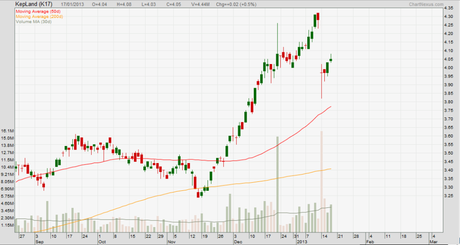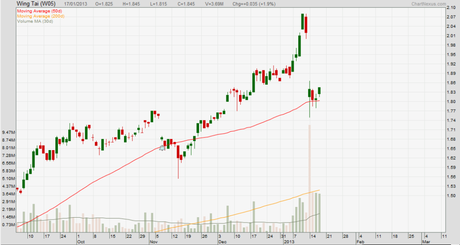 In my opinion, there is no reason why the other counters are still leaving their gaps open. The good thing about this is that it presents a wonderful opportunity for a trader who believes the gaps should all be filled. So, if you are wondering, at all, what I am ready to pull the trigger on, you now know. Let us see how this pans out.
All analyses, recommendations, discussions and other information herein are published for general information. Readers should not rely solely on the information published on this blog and should seek independent financial advice prior to making any investment decision. The publisher accepts no liability for any loss whatsoever arising from any use of the information published herein.