New to little Indiana? Subscribe for free to my RSS feed. Thanks for stopping by!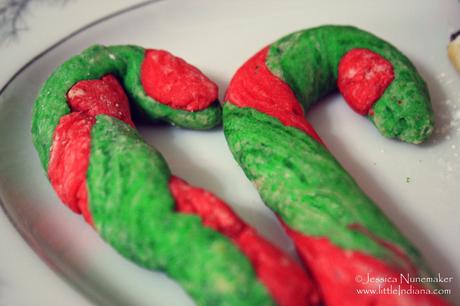 Candy Cane Butter Cookies Recipe
Kid #1 browsed through cookie recipes in an old cookbook I have and found this recipe for Candy Cane shaped Butter Cookies. He really wanted to make these cookies.
So, we made them. Or, rather, he made them. He shaped each and every one of these buttery cookies. They are good!
In fact, they are so good that these Candy Cane Butter Cookies are on my Christmas Cookie List again! Just be very careful not to over-mix the dough and to work on one cookie at a time or they can be rather crumbly.
Candy Cane Butter Cookies Recipe
Print Candy Cane Butter Cookies Recipe
Rating: 51
Prep Time: 30 minutes
Cook Time: 9 minutes
Total Time: 39 minutes
Yield: 4 Dozen Candy Cane Shaped Cookies
From Betty Crocker's Cooky Cookbook 1963 by General Mills, Inc.
Ingredients
1 Cup Shortening (Half Butter or Margarine)
1 Cup Powdered Sugar
1 Egg
1 1/2 teaspoon Almond Extract
1 teaspoon Vanilla
2 1/2 Cups Flour
1 teaspoon Salt
1/2 teaspoon Red Food Coloring
1/2 Cup Crushed Peppermint Candy
1/2 Cup Granulated Sugar
Instructions
375* oven.
Mix Shortening, Sugar, Egg, and Extracts.
Mix Flour and Salt and stir into Shortening Mixture.
Divide Dough in half. Blend coloring into one half.
Roll a 4" strip (using 1 teaspoon dough) from each color.
Set strips side by side, press lightly together, and wrap around each other like a snake.
Make one cookie at a time or the dough will become too dry. Lesson learned.
Curve top to mimic candy cane shape.
Bake 9 minutes or until very lightly browned. While warm, remove from baking sheet and sprinkle with mixture of candy and sugar. (we skipped this step)
Schema/Recipe SEO Data Markup by ZipList Recipe Plugin2.0
http://littleindiana.com/2012/12/candy-cane-butter-cookies-recipe/
Photos are the Property of little Indiana. Do Not Use Without Permission.
Find pictures in Indiana on my Flickr photostream or on the new little Indiana Tumblr blog.
Just don't forget to tell 'em that  little Indiana sent you!
Don't miss a moment. Subscribe to little Indiana and receive instant updates to stay on top of everything "little."
little Indiana: Where to Stay, Play, and Eat in Small Towns in Indiana. Discovering Indiana's best small towns! Now get little Indiana on your Kindle.
Targeted. Relevant. Affordable! little Indiana advertising.