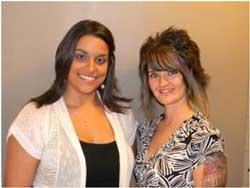 Ashley & Erica From Ashka Candles
Our names are Ashley Sanatore and Erika Mutschelknaus and our company is Ashka Candles. The meshing of our first names.
We were tired of always buying candles that had amazing cold throw but didn't smell up a room at all when lit. And the only candles that ever seem to have a great hot throw are far more expensive than they should be. We wanted to create a wonderful product with high quality and still be affordable for everyone.
Our favorite part of business is seeing the customers' faces light up when they smell our products. Everyone always seems shocked that we are just two 26 year old girls who hand-make all of our products. It gives us a great satisfaction to know that we are making something that everyone can enjoy. It doesn't matter if they are young, old, female, male…. EVERYONE loves candles. And being able to make amazingly scented candles that everyone can afford just makes all the work worth it. The most difficult part of our business is maintaining our low prices as the cost of all supplies rises. It is also difficult at times to juggle our full-time everyday jobs with this expanding "hobby" but we always find a way to make it work!
There are so many great products from Natures Garden Candle Supply, but the fragrance oils are just amazing! And we love the review feature! We always look at the reviews of a fragrance before we buy it to see how it has sold for other customers.  It is a great feature that we haven't found with any other company. Our goals for the coming year are to expand more into other beauty products. We currently sell candles and lotions, but would like to add body spray and perhaps bath gel. We would also like to possibly get into a shop in the very near future.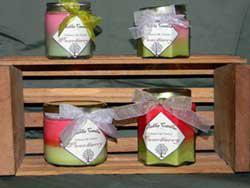 Website: http://www.ashkacandles.com
Facebook: http://www.facebook.com/ashkacandles