Towpaths I have loved... a simple exultation this time.
I've headed south for the week-end, visiting family, and today I re-acquainted myself with the Grand Union Canal. After moving out of London in the early 1980s I lived variously in Berkhamsted and Hemel Hempstead. The Grand Union Canal runs through both towns on its way to/from London and Birmingham (137 miles, 166 locks). It is a beautiful and tranquil ribbon of waterway, thanks to the good offices of the British Waterways Board as was - the charitable Canal & River Trust since 2012.
In my thirties I used to jog up and down the towpath of the Grand Union between Berkhamsted and Hemel Hempstead, occasionally stopping at a canalside pub to slake a thirst,  for on hot days the path was flinty and dusty. In wet weather there would be puddles to leap and reflections to enjoy. In very cold weather the puddles would freeze and then splinter like crazy paving with a delicious crackling sound as one trod on them. Most magical of all were the evenings in early summer when for mile upon mile the grass verges sparkled with colonies of glowworms - quite a sight.
When my running days were over the towpath from Hemel Hempstead to Berkhamsted was always a pleasure to walk as an end in itself or to go shopping or to the cinema in the neighbouring town. It was also quite feasible to walk along it at night with just the moonlight reflecting off the water to guide the way - the only hazard being the occasional mooring rope from longboats tied up at the bank.
This week's poem is something I've written since moving north. It's based on a particular spot on the Lancaster Canal at Garstang where it passes by aqueduct over the River Wyre. That's quite an unusual occurrence in waterway topography and I thought it worth celebrating. It put me in mind of some of the perspective-defying drawings of the Netherlander MC Escher, famed as a graphic artist for a series of impossible objects, hyperbolic geometries, tessellated designs toying with notions of reflection and symmetry. His famous depiction of a perpetual-motion waterfall is what I associate with the Garstang aqueduct.  His 'puddle' picture (below) reminds me of those happy hours pounding the towpaths of Hertfordshire...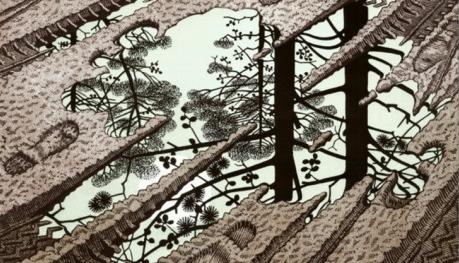 Crossflux
X marks the spot
in Garstang on Wyre
where water passes over water.
A rare enough feature
gives cause to consider
how like a drawing
by MC Escher
(fittingly, son of a civil engineer)
this construct by which
artifice mirrors nature
and is reflected back therein;
not a crossroads exactly,
more a liquid geometry:
underflow with overtow -
canal atop and river below.
Thanks for reading. Have a good week, S ;-)
Email This
BlogThis!
Share to Twitter
Share to Facebook
Reactions: