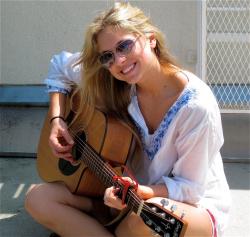 Kate Todd has been singing and performing since her early teens, and the hard work is paying off. The 27 year old is recording her sophomore album, and getting ready to take this stage this May as part of Canadian Music Week in Toronto.
My introduction to Kate came on TV, which we'll get into in a minute, and then MySpace. Honestly, we were MySpace friends back in the day (way back)… but since then she's been working hard to become a strong songwriter and performer. She's played shows with the likes of Jesse McCartney and Keshia Chante – and her most recent single, a cover of Hit Me With Your Best Shot, features guitar work by the legendary Jeff Healey (recorded 8 years ago)and is poised to make people take notice on radio and online.
In the middle of getting ready for CMW, and playing shows like her recent weekend stint at Toronto's Boots & Bourbon, Kate Todd took a few minutes to catch up with us and answer some questions about her TV career, how her music has progressed, and more.
Have a look!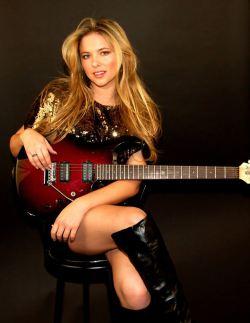 Q. We saw you perform 3 years ago at the Mod Club in the Landmark Showcase Competition, how far do you feel you've come in your career since then?
The Landmark Showcase Competition was a great experience for me. The band and I won runner up in the battle of the bands competition from a panel of industry experts. I can tell you since then it has been an amazing journey and I have been very fortunate to have shared the stage with some amazing musicians, write and record my sophomore album and play all over there GTA even securing some residencies to showcase and have a place to road test new material.
Q. You told us that you're busy recording a new album… can you tell us anything about it and what we'll hear?
I was awarded a FACTOR grant for my sophomore album, 'Anywhere With You,' I made my first trip to Nashville in the summer and we wrote 10 songs in a week with some of the top writers. It was a complete thrill and honor for me. I had the pleasure of writing with notable Canadians such as: Patricia Conroy, Tim Taylor, Ralph Murphy and Daryl Burgess. The songs we got were so much my style and sound. People can expect to hear some anthemic rockin party tunes, soaring ballads as well as my rootsier and raw sound.
Q. You're working on the actress/musician hybrid career a lot like another one of our favourites, Mackenzie Porter. Do you see similarities between the 2 of you and what you are trying to accomplish as an entertainer?
My first role was that of a singer/songwriter on a television show called Radio Free Roscoe where I played a musician. For me, music has always come first. Since then the two have continually intertwined and I have found myself playing songwriters and singers in other shows such as Cashing In. I have also been fortunate to have my original music licensed to Disney, Showcase and CTV networks. As an entertainer, I strive to reveal myself through my music and when I step up on stage you are getting Kate Todd. I'm not playing a character; I get to be myself and say what I feel and think through my songs and I feel very grateful for that.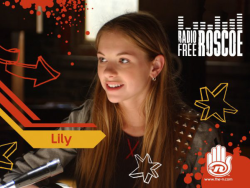 Q. It's hard to believe that it will be 10 years this May that Radio Free Roscoe wrapped up. Do you look back on those 4 years as a big part of who you are now as an entertainer?
I do connect very much with my character Shady Lane/ Lily Randall on RFR. When I got the part I had virtually no acting experience. I was a small town girl who played music and I believe that was a big reason why I was chosen for the role. I wasn't acting so much as I was just playing myself. I remember in my first audition I had to sing and play guitar in front of the producers and directors and at 14 I was incredibly nervous. Well, good thing because Lily (my character) was also nervous in the script – no acting required ha! I think they saw a lot of similarities between her and I. Sometimes when I step on stage and I am singing in front of a room or a theater of people it feels like Lily Randall all grown up. She's taken her electric guitar from the basement radio show and playing it up on a stage (almost completely sans stage freight)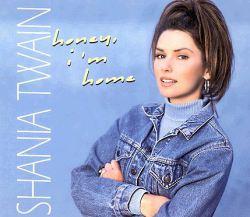 Q. If we were to sneak a peek at your playlist right now, what 3 artists would we find on your most played list?
Eagles- Take It Easy
Natalie Imbruglia- Torn
Shania Twain- Honey, I'm Home
Q. Last one… in 50 words or less, what can fans expect when they see Kate Todd perform at Canadian Music Week
A little bit of lace a little bit of leather and a whole lot of country rock n roll!
Thanks to Kate for taking the time to play along, we look forward to seeing her on stage at Canadian Music Week – and we're excited for the release of Anywhere With You.
Find Kate Todd online at these fine locations…
www.katetodd.com
Facebook: Kate Todd
Twitter: @KateTodd
YouTube: Kate Todd