Petric hit the Boots & Hearts Front Porch Stage hard on Friday afternoon. They were there to show some of their Ontario fans what they've been working on.
With their latest single Can't Say No on the charts and country radio across Canada, Petric have added another fan favourite to their library of songs. Add their energy and enthusiasm, and it's no surprise that they continue to gain fans and momentum with each release.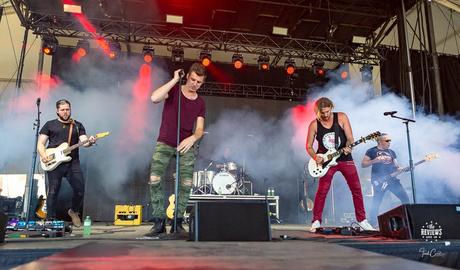 We've seen Petric take the stage many times, but they've taken their performance up a notch. Tom worked the stage and hopped on and off the speakers. He interacted playfully with the audience and even put on a fan's hat. It was a joy to watch them perform and to watch fans sing along.
As we neared the end of the performance, Petric was joined by Brandon Scott. Letting Scott take the lead with his single Noise, they were the perfect backing band. Before Brandon left the stage, they all sang a resounding version of Band of Brothers.
Delivering hit after hit, including Can't Say No, It Girl, All She Wrote, Play It Safe and more, Jason and Tom finished out the set with 18 Ends.
Boots & Hearts 2018 was the last festival date of the summer for Petric. Now, they're headed to Nashville to write the follow-up to their 2017 EP, 18 Ends. But before they do that, they'll be playing the CCMA Countdown Concert. If you're anywhere near Hamilton we recommend that you check out the show. You can find all the details on the CCMA website.
We're looking forward to that next chapter and we hope it's sooner rather than later.
We can't wait to see the boys up on the stage again.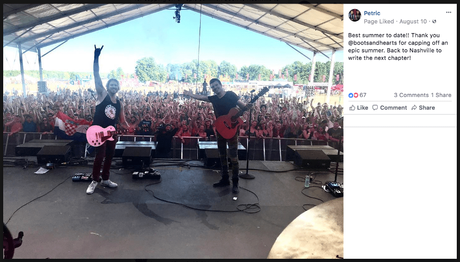 Photos of Petric at Boots & Hearts 2018