French butter is unlike any other; it's slightly salty, just sweet enough, and more farm fresh than you can imagine. Then there are the baguettes, chocolate mousse, ratatouille, brie, salade niçoise, nutella crepes, truffles, steak frites, etc. I've honestly already had moments in which I've tired of French food though. Fortunately, Paris is just about as multicultural New York (for which I too am already nostalgic for). I'm currently in the midst of seeking out its many ethnic restaurants.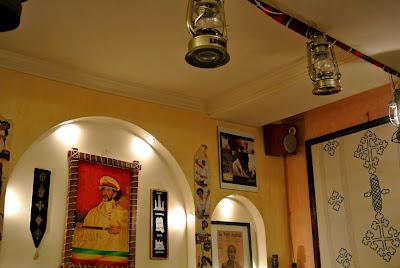 At the end of my first week here, I was lucky enough to have been introduced to Le Negus in the 11e arrondissement. I've only enjoyed Ethiopian food twice at a time when I wasn't eating meat and yet I knew I'd absolutely love it.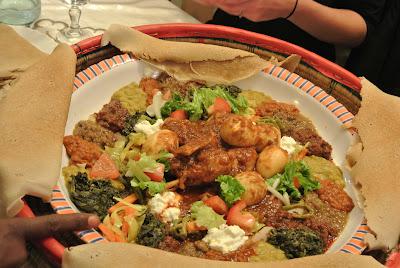 Three new friends and I shared a spectacular plate of frommage blanc in Ethiopian spices, a sweet beef ragout, spiced chicken, salad, and delicious stewed lentils, spinach, and peas. Scooped up with plenty of injera (an airy flat bread), of course.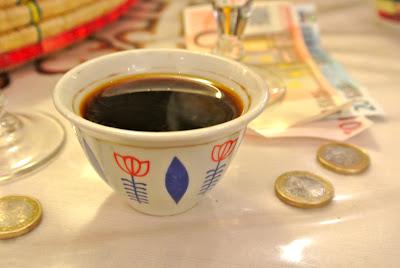 After filling ourselves to the brim, we sipped Ethiopian coffee as Alem, one of the owners behind Le Negus, explained poetically the history of Ethiopia and its coffee. I can't wait to go back, but not before discovering more of Paris! I hear the Sri Lankan and Indian food at La Chapelle (behind Gare du Nord) is fabulous; I need to taste the numerous delicacies of the 13e's Asian quarter; and if Belleville is known for its African shops, I don't doubt there's a few amazing eateries, too. As for sushi, a friend recently introduced me to a gem near Opéra: Sushi Gan. Bon appetit indeed.