August 19, 2020 Leave a Comment
Whether you consider it a fruit or vegetable, there's no doubt that tomatoes are super healthy. So now the question is this: Can I give my Baby Tomatoes?
Is it a fruit? Is it a vegetable? Today's focus is on the controversial fruit-veggie – the tomato! Scientifically speaking, the tomato is a fruit, but for all practical purposes, we consider it a vegetable – even grocery stores stock it in the veggie section!
Tomatoes are considered to be a fruit because they grow from the flower and have seeds in the middle. It's believed to have come from Peru. The entire species is originated in western South America and Central America. Nearly 60 million tons are produced in a year.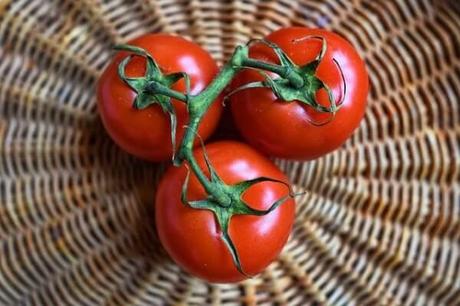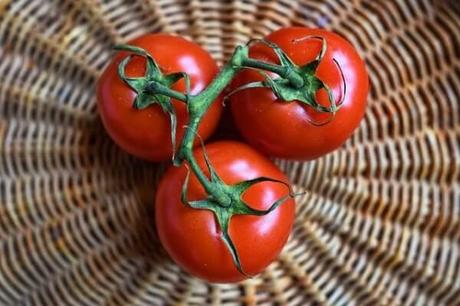 Tomatoes can be found in different colors like red, yellow, purple, white and black as well. There are around 10,000 varieties of tomatoes all over the world. The most commonly seen tomato varieties are cherry tomatoes, Roma tomatoes, Tomatoes on the vine, Beefsteak tomatoes, Heirloom tomatoes, grape tomatoes, Green tomatoes, red cloud.
Tomatoes are incredibly popular and are present in almost all cuisines of the world. In fact, the people in Ohio, USA have shown their love for tomatoes by making tomato juice as their official drink. They are also very healthy, packed with antioxidants, potassium and Vitamin C. Cooked tomatoes are healthier than raw tomatoes as cooking releases the cancer-fighting antioxidants.
Nutritional Benefits of Tomatoes
Maintains Blood Pressure
Maintains Heart Health
Controls Blood Sugar
Treats Acidosis
Aids Digestion
Prevents Constipation
Maintains Eye Health
Maintains Skin Health
Prevents Cancer
Maintains Bone Health
Can I give my Baby Tomatoes?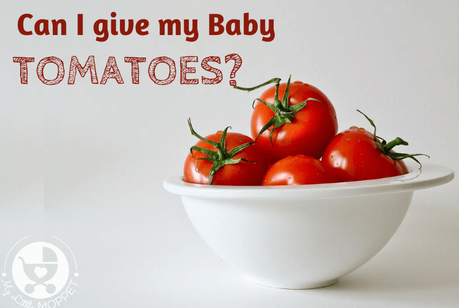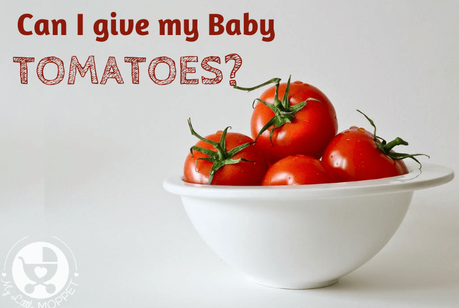 Tomatoes are loaded with nutrients, but they are best introduced to babies after 8 months. It's recommended to cook tomatoes so that the body can absorb the health benefits of lycopene. Raw tomatoes can be tough to digest for little babies and they can also be contaminated with salmonella. When introducing tomatoes to babies, it's advised to follow moderation, since excess intake of tomatoes can cause side effects like heart burn, acid reflux, diarrhea or kidney problems.
While not mandatory, it is recommended to follow the 3-day rule when introducing any new food, and starting with a small quantity in the beginning to avoid the risk of food allergies. Babies with allergic histories or with GERD (gastroesophageal reflux disease) can get the pediatrician's guidance before getting introduced to tomatoes. Allergic reactions can be acute, moderate or even severe. If the baby displays symptoms like watery eyes, canker sores around the mouth, itchy rashes, abdominal pain, burning sensation in the mouth, swelling of the face or shortness of breath, he needs to be rushed to the doctor right away.
Tips for Buying and Storing Tomatoes
When choosing tomatoes for babies, it's best to opt for organic tomatoes. Select fruits which are smooth and firm, and have no soft spots or cracks.
Be sure to store fresh tomatoes at room temperature, away from sunlight. If you can, avoid refrigeration, since refrigeration might result in flavorless tomatoes.
Healthy Tomato Recipes for Babies and Kids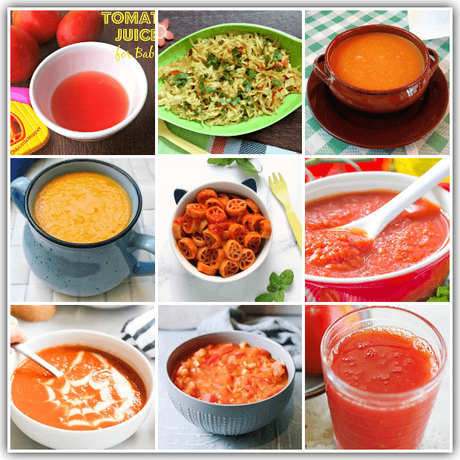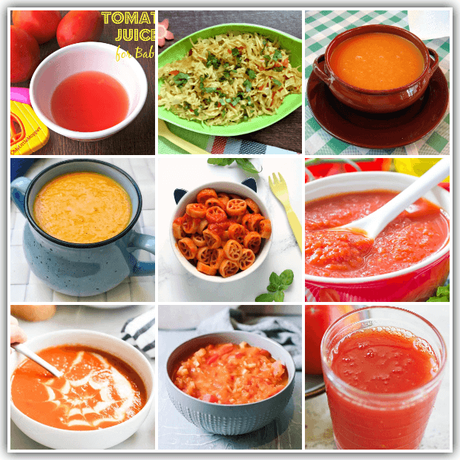 1. Tomato Juice for Babies
2. Tomato Semiya Bath or Tomato Vermicelli Recipe
3. Gazpacho Recipe- Chilled Cucumber Tomato Soup
4. Carrot Tomato Soup Recipe for Babies, Toddlers and Kids  by GK food diary
5. First Tomato Pasta Sauce for Babies {Iron Rich + Dairy Free} by Happy Veggie Kitchen
6. Easy tomato pasta sauce  by Made for Mums
7. Tomato Soup for Kids by Healthy Little Foodies
8. Sweet Tomato Sauce for Baby by Indulge with Bibi
9. Tomato Juice  by Simply Recipes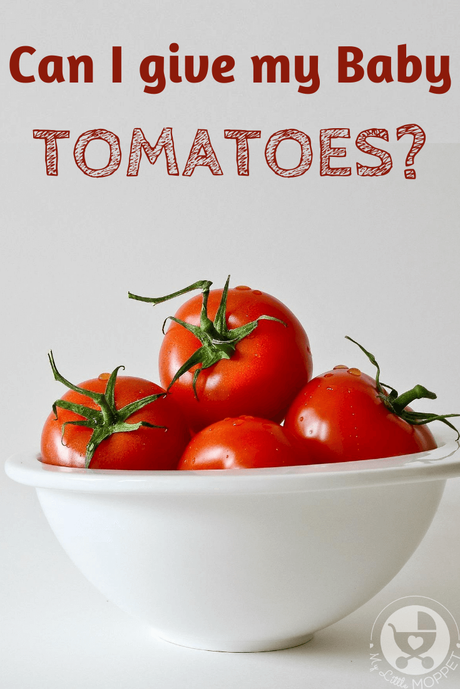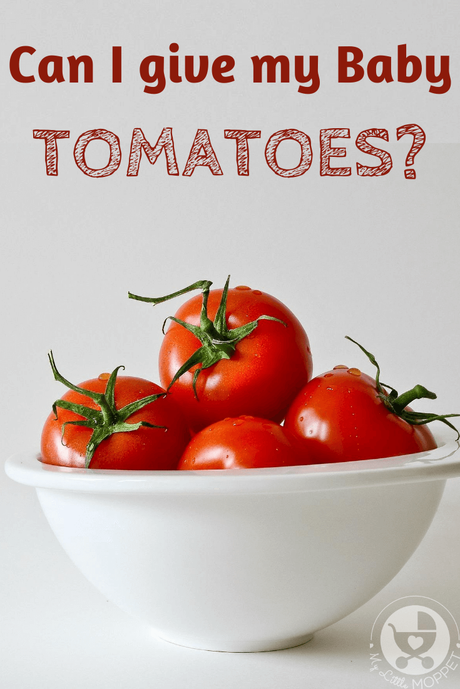 Tweet
Pin
Share
WhatsApp
Email
Filed Under: Baby, Can I give my Baby? Tagged With: can i give my baby, Tomato, tomato juice for babies