Animals have been stealing scenes since movies began – but can Hollywood's top dogs really act or is it all down to clever training?
The Artist is being tipped to sweep the board at this year's Oscars – but there will be no Academy Award for one of the silent film's biggest stars.
In fact, he will be lucky to get a pat on the head and a consoling bone to chew on.
Uggie is a nine-year-old Jack Russell terrier – and the Academy is famously sniffy when it comes to handing out prizes to animals.
Lassie, Cheetah and Rin Tin Tin may have been among the biggest stars of their day – but not one of them ever gripped the famous gold statuette in their jaws.
The nearest a "non-human" performer has come to Oscar-night glory was in 1998, when Bart the Bear, a 1,480-pound Kodiak and star of films such as The Edge and Legends of the Fall, presented the Oscar for Best Achievement in Sound Effects Editing.
Animal stars of the 30s and 40s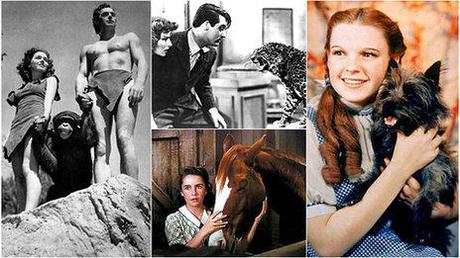 -Left:
Cheetah
the chimp appeared with Johnny Weissmuller and Maureen O'Sullivan in Tarzan films from 1932-34 – he died last month at the age of 80. -Centre, top:
Baby
, in the film Bringing up Baby (1938) with Cary Grant and Katherine Hepburn, was played by Nissa the leopard. The film also features a fox terrier called George, played by Asta, a leading 1930s dog actor. -Right:
Terry
, a Cairn terrier, earned $125 a week as Toto in The Wizard of Oz (1939) – more than many human actors. She almost died when a Winkie guard stepped on her. Judy Garland wanted desperately to adopt her. -Centre bottom: A 12-year-old Elizabeth Taylor starred in National Velvet in 1944 riding a horse called
The Pie
(short for "Pirate") in the Grand National steeplechase. She was later given her co-actor as a birthday present.
Fans of Uggie – who has already won the coveted Palm Dog at the Cannes film festival for his performance as the faithful sidekick of a fading matinee idol – have launched a campaign on Twitter and Facebook for the Academy to recognise his talents.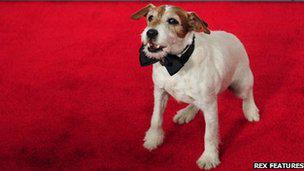 Many critics say Uggie steals the show in The Artist
But the chances of this latest Doggie De Niro jumping the celluloid species barrier into the world of human acting honours appear remote.
The Academy appears to have had a downer on dogs since the first Oscar night in 1929 when, legend has it, German Shepherd Rin Tin Tin was voted best actor, only for the statue to be mysteriously handed to a human actor, Emil Jannings, instead.
Some think today's Hollywood establishment are no less wary of sharing the awards night spotlight with a furry rival.
"There is a good chance that a certain number of serious thespians would be very offended to be on a stage with, say, a cute golden retriever who happened to make a very popular film," says author Susan Orlean, who is campaigning for Rin Tin Tin to be awarded a posthumous Oscar.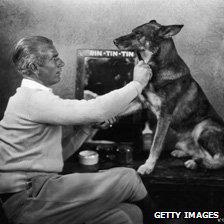 Rin Tin Tin preparing for his close-up in 1935′s Jaws Of Steel
Rin Tin Tin was the undisputed star of the silent era and could legitimately lay claim to being a "great actor," she claims, even if there may have been some mischief and "spoofing" of the fledgling academy by those who took part in the 1929 vote.
"His performances sometimes leave you amazed. I mean how would you teach a dog to look suspicious or all of those emotional reactions that Rin Tin Tin had?
"Maybe he had a subtle kind of intelligence that allowed him to understand emotions."
Not all canine acting talent is fit to follow in Rin Tin Tin's mighty pawprints, she argues.
"There are lots of animals in Hollywood who are merely well-trained and are in roles that simply require them to go through a series of actions.
"They do it very well and it's the trainer that deserves a lot of credit but they are not acting."
Scene presence
But there are certain special animals – such as the equine stars in current hit War Horse – who have enough "charisma" and "presence" to be considered actors in their own right, says Ms Orlean, author of Rin Tin Tin: The Life and The Legend.
"There are animals who have performed in a way that is dazzling and that really does make you think they understand something beyond their specific training.
"There is a kind of magic. What it is that they think they are doing I don't know."
And she does not believe a wet nose and furry hide should necessarily be a bar to Oscar night recognition: "There are plenty of human actors who don't do a whole lot more than follow directions."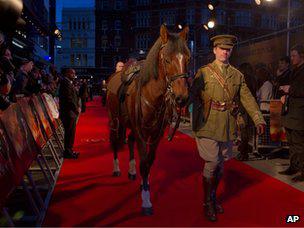 Joey, star of War Horse, on the red carpet
Veteran Hollywood animal trainer Shane Ayon, of Animal Actors International, also claims the best "non-human" performers are capable of bringing something extra to a part.
"Some fancy dogs have prissy walks that they do or they give a head nod, or something like that, or a different face. You have to be on a trainer level to spot that, but we see it all the time."
And unlike human actors they do not "talk back" or have ego "issues". In fact they do not seem to suffer for their art much at all or, in fact, notice it.
"I've invited a few of mine to come in and watch their own show but it's like 'we don't want to be watching that, we want to watch the nature channel'. They do have great personalities."
The Screen Actors Guild and the Academy of Motion Picture Arts and Sciences did not respond to requests on the issue of whether the ban on animal Oscars should be lifted.
And Uggie – who appears to crave a snooze on the sofa far more than the acclaim of his industry peers – has also maintained a dignified silence on the subject (unless you count his inevitable Twitter feed).
But Jone Bauman, of the American Humane Association, is not taking the snub lying down, arguing that it is down to Hollywood's fear of being upstaged.
"Imagine if an Alaskan wolf walked on stage – people would gasp. I don't know if I have heard anyone gasp when an actor walks on."
Her organisation, which certifies that "no animals were harmed" in the making of films – the familiar legend from thousands of closing credits – has set up its own acting awards for animals.
And the good news for Uggie, she reveals, is that he is "absolutely in line for a Pawscar this year". It's better than nothing…