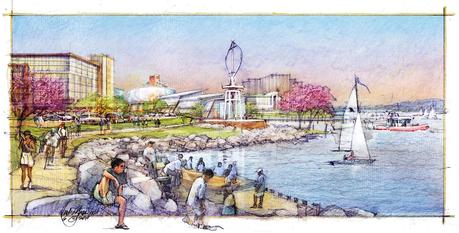 Gridlock in Washington. It's not just the traffic, but the political process that has stalled as evidenced by the debt ceiling debacle and other squabbles. That's at the federal level. At the city level there has been worry over the change from Mayor Fenty to Mayor Gray and a possible return to DCs not so gilded past. But there is a potentially good piece of news for the nation's capital: an old, inefficient, coal-powered electric plants sits on the Potomac River.
How is this good news? The Potomac River Generating Station (PRGS) is 60 years old and runs at 20% capacity. It has been fined for pollution violations, and it takes up 25 acres of prime real estate close to the city that could be used for various other activities. So, how about shutting it down and redeveloping the area?This report states that the demolition, remediation, and development would cost around $450 million. However, the current power plant supports about 150 jobs while a new development project could create 2,205 jobs. It is estimated that between 2015 and 2024, $1.53 billion in new direct spending would occur in the region and tax revenues would increase by $27 million. What about the loss of power currently produced by the plant? A report by the Analysis Group finds that shutting down the plant would not threaten the area's electric supply. There would also be a reduction of 600,000 tons of C02 per year. The land is under Alexandria, Virginia's jurisdiction and the Clean Skies Foundation has released the Potomac River Green plan that imagines a residential and commercial development with redeveloped waterfront built to LEED standards.This would be an interesting option for LEED neighborhood development. This could be a win-win as far as providing acreage for redevelopment instead of promoting further sprawl into the Virginia countryside, while getting rid of an older, polluting power plant.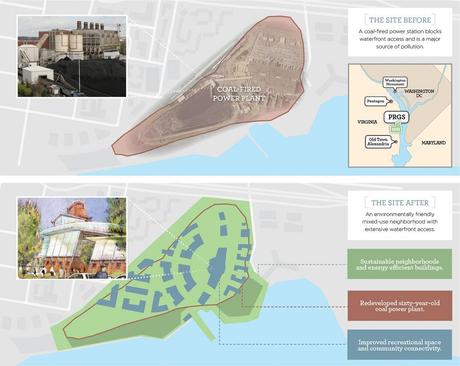 Can this be a leading example of out with the old and in with the new?
[Image]
[Image 2]