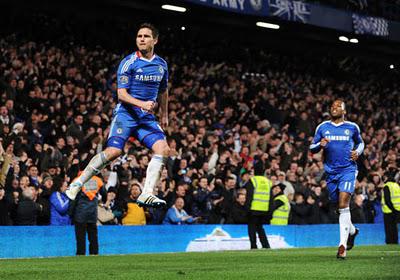 By: Brandon Whitfield
Before the season began, Chelsea was the odds on favorite to retain their Premier League title, and after the first month it looked as if Chelsea would run away with it easily.  They started the season with two convincing 6-0 victories against bottom dwellers Wigan Athletic and West Brom.  They continued their form with a 2-0 victory against Arsenal and all seemed well at Stamford Bridge.  On November 7th, Chelsea headed to Anfield to face a struggling Liverpool.  Two Fernando Torres goals later, Chelsea found themselves with just their second loss of the season.  Many pundits look back and point to that game as the beginning of Chelsea's downward spiral.  I actually feel that the Chelsea midseason swoon began at home just a week later against Sunderland.  Sunderland is a pretty good mid table squad that definitely has some talent, and on that day Chelsea was embarrassed 3-0, including a pathetically defended goal by Sunderland defender Nedum Onuoha in which he slalomed through the entire Chelsea defense and slotted in the goal.  The game really showed the rest of the league how vulnerable this Chelsea squad is.  The Sunderland match kicked off a 9 game span in which Chelsea only collected 7 points and won exactly 1 match.  Chelsea went from being top of the table with a 3 point lead on November 13th to 5th place and 9 points adrift on January 5th.  This span effectively ended their chances of retaining the title. 
I think one of the main reasons for Chelsea's downfall in the league during the first half of the season has been injuries and a lack of depth, the latter due to Chelsea getting rid of a lot of contributive players from last year.  When Lampard went out with an injury, their midfield was sorely lacking.  Chelsea got rid of Deco and Michael Ballack and added Ramires and Yossi Benayoun in replacement.  In Chelsea's poor stretch, Ramires was still trying to adjust to the English game and Benayoun was injured early in the season and has not really contributed to the team.  From the center of defense, Chelsea sold Ricardo Carvalho to Real Madrid which left Chelsea thin at the back with only three center backs.  In the January transfer window, Chelsea owner Roman Abromovich decided to bring in David Luiz to help in the central defending and striker Fernando Torres. Torres has started slow, but Luiz has been a revelation and has become an important player for the team.  He even scored Chelsea's first goal in their 2-1 victory over Manchester United on March 1st.  The addition of Luiz, along with the improvement of Ramires and the return of Lampard, has helped Chelsea escape their terrible run of form. They now sit 4th in the table and look poised to qualify for next year's Champions League.
Although I think Chelsea is realistically out of the title race, I believe (with their form continuing to improve) they have a legitimate chance in the Champions League, even without the services of Luiz in the competition.  The European Cup has been the one trophy that has eluded Chelsea since they became a force in the middle of the 2000s.  Being out of the title race will only help Chelsea in their quest for the European title.  Chelsea will be able to rest players and prepare lineups based on their Champions League schedule, which would give them an advantage over teams like Manchester United or Barcelona who are still battling for their domestic leagues.  On Wednesday Chelsea plays their second leg match against Copenhagen with a 2-0 lead.  I expect them to easily dispatch Copenhagen and make their way to the Quarterfinals.  I think Chelsea can win the Champions League and would favor them against any team left in the competition not named Barcelona.  Let's see if Chelsea can become the first London based club to win the European Cup.