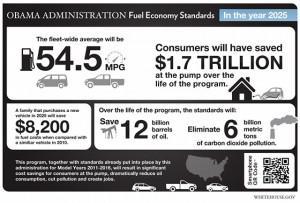 On July 29, the Obama administration proposed a plan that would require automakers to reach a fleet-wide average of 54.5 miles per gallon (MPG) by 2025 under the Corporate Average Fuel Economy (CAFE) standards. The new rules roughly double the current requirement for passenger cars (27.5 MPG), and will start to go into effect in 2017 – one year after automakers meet a separate 35.5 CAFE standard (effective 2011-2016). The Obama Administration estimates that from 2017 to 2025, this will save roughly $1.7 trillion in fuel, or about $8,000 per vehicle.
While car manufacturers have historically opposed tougher fuel efficiency legislation, the White House press release states that 13 of them, representing over 90 percent of the U.S. market, support the proposal. They include Ford, GM, Chrysler, BMW, Honda, Hyundai, Jaguar/Land Rover, Kia, Mazda, Mitsubishi, Nissan, Toyota and Volvo. The United Auto Workers (UAW) and Union of Concerned Scientists also support the proposal.
The White House won the support of automakers partially because it negotiated two key compromises. The first was to reduce the original CAFE requirement from 62 MPG to 54.5 MPG. Since CAFE values, unlike those of the Environmental Protection Agency (EPA), are not adjusted downward by 15 percent to more closely represent real-world driving, this should work out closer to (and probably less than) 46 MPG (DieselNet). CAFE standards will also account for MPG credits (discussed below). The second concession, which probably will be very significant in the future, is the inclusion of a "midterm review." This means that in 2018, the Environmental Protection Agency (EPA), National Highway Traffic Safety Administration (NHTSA), and California Air Resources Board will decide whether the 54.5 MPG target should be reduced in light of the industry's progress and market conditions (i.e., fuel prices, consumer behavior, etc.).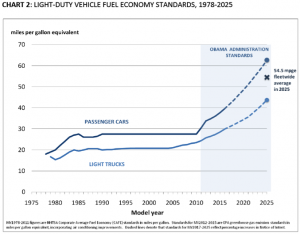 To account for larger vehicles (up to 10,000 lbs) and encourage efficiency gains across all lineups, a "footprint" system will also be used. Similar to the system used for model years 2011-2016, this ties a vehicle's mileage requirement to its size (as determined by average track width x wheelbase), so that larger vehicles have lower economy requirements and smaller vehicles have higher requirements. Overall economy "compliance is determined by comparing a manufacturer's fleet average fuel economy…with a required economy level calculated using the manufacturer's actual production levels and the category targets" (For more technical info, see DieselNet link above).
To further help manufacturers meet the requirement (at least on paper), the proposal lays out a number of areas where they can earn incentives and credits:
Incentives for electric vehicles, plug-in hybrid electric vehicles, and fuel cells vehicles;
Incentives for advanced technology packages for large pickups, such as hybridization and other performance-based strategies;
Credits for technologies with potential to achieve real-world CO2 reductions and fuel economy improvements that are not captured by the standard test procedures.
In addition, EPA plans to propose provisions for:
Credits for improvements in air conditioning (A/C) systems, both for efficiency improvements and for use of alternative, lower global warming potential refrigerant;
Treatment of compressed natural gas (CNG);
Continued credit banking and trading, including a one-time carry-forward of unused model year (MY) 2010-2016 credits through MY 2021.
As I'm sure you can tell by now, CAFE standards are not as simple and straight forward as they might appear. Nevertheless, achieving "54.5 MPG" will still be extremely challenging. Already, we can surmise how the 35.5 MPG CAFE standard may be affecting the industry. Start-stop technology – which automatically shuts off the engine when a car is stopped, then starts it as soon the driver presses the gas pedal – is being used by BMW, VW, Mercedes, and many others. Also, car manufacturers are increasingly turning to diesel, hybrid systems, and turbo-charging as a way to meet efficiency standards, and make more power, more efficiently (examples include the upcoming 2013 Chevrolet Cruz Diesel; 2016 Porsche 911 Hybrid; Ford's recent twin-turbo EcoBoost V6; and BMW and Mercedes' turbo-charged performance models).
Though it's hard to predict how this will play out in the future, it's safe to say that most stakeholders and the American public are on board, at least for the time being.
Thumbnail
Text Image