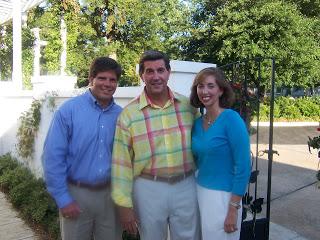 Hal and Jessica Taylor,
with Bob Riley
An officer with the Alabama Alcoholic Beverage Control Board (ABC) essentially owes his family, which now includes a wife and two small children, to former Alabama Governor Bob Riley. Does that raise questions about ABC's ability to give the VictoryLand casino a fair hearing on its application for a liquor license, considering that Riley and his allies have spent roughly four years trying to shut down  non-Indian gaming facilities in the state? A reasonable person probably would say yes.
That should concern citizens who care about honest government, as a decision on the VictoryLand case is expected any day now.
Hal Taylor, who serves as captain and assistant director of the ABC enforcement division,
used to work for Riley as an executive security officer
in the governor's office. But the ties go way beyond the professional realm. That is evident from reading
The Taylor Times,
a blog written by Jessica Taylor, Hal's wife.
Jessica Taylor's professional ties to Riley might be even closer than those of her husband. She worked for Riley in the governor's office and now serves as an associate at his company, Bob Riley and Associates LLC in Montgomery. Her duties there include
serving as treasurer of Riley's Alabama 2014 PAC
.
But consider the personal connections, which are quickly apparent from reading Jessica Taylor's writing at
The Taylor Times,
especially in a June 2012 post titled "
This Is Just the Beginning
." First, Jessica Taylor puts her religion front and center:
Welcome to the life and "Times" of the Taylors. The purpose of this blog is to be a lifelong reminder of the Grace, Love, Mercy, Peace and Blessings the Lord has given to our family. My prayer is that one day our children will read this blog and see what an amazing God we serve.
I am Jessica Taylor. I love the Lord. I have an amazing husband, Hal Taylor and two amazing children, John Harris and Elizabeth Lynn (Lizzy Lynn) Taylor. I am a sinner that is saved by God's grace. I am not perfect, but I strive learn more about God daily, love my husband, and teach my children the disciplines of the Gospel. Also, I am not a writer. In fact, I really don't like writing. I want to have a journal of all our life adventures and the journey's the Lord puts in our path. I meant to start this a long time ago, but as usual, life got in the way.
I was born September 28, 1978 in Birmingham, Alabama. My parents are Jeffrey Harris and Judith (Lynn) Early Flannery. I have one older sister (Brittney Flannery Thompson) and one younger brother (Jeffrey Harris Flannery, Jr.). I am blessed with a family that loves the Lord and each other. I grew up in Birmingham and had the wonderful privilege of attending Briarwood Presbyterian Church as well as Briarwood Presbyterian school. I graduated from Auburn University with a double major in Public Relations and Spanish.
Those familiar with the Birmingham church scene will recognize Briarwood as one of the largest, most conservative congregations in the area, known for its heavily Republican leanings. We then learn that Briarwood played a role in introducing Jessica Taylor to the Riley family:
After graduating college I moved back to Birmingham and worked for the Hoover Chamber of Commerce. I was the Membership director which really helped me learn how to get out and meet people. While working for the Chamber, I met then Congressman Bob Riley who was the keynote speaker at Briarwood's patriotic rally service for the 4th of July. . . . 

Anyway, I met Bob Riley that Sunday, and he announced he was running for Governor that following Monday. His campaign headquarters were in Homewood, AL so I went down and volunteered to help. I really didn't think I would get into politics. I did always dream of going to work everyday in a suit. I thought I was going to be an architect, until I went through 9th grade math and shot those dreams right out of the water. Regardless, I wanted to have a career wearing a business suit. On New Year's Eve of 2011, Congressman Riley "told" me that I was going to start working for him full time. I started out as a field representative, and quickly moved to his head scheduler. I loved that position. I told him every move to make, which was pretty stressful, but at the same time neat to see how his schedule formed his legacy. I worked day and night, went to every local fair, including the "Chitlin' Festival" and the "Rattle Snake Rodeo" campaigning for him. He won the primary and after a long legal battle won the general election. I remember standing in Rob Riley's law office with Rob, the Governor and Toby Roth when the concession call from Governor Siegelman came in. In true Bob Riley fashion he was gracious to the incumbent governor. Moments later he looked at me and asked, "are your bags packed?" I replied confused, "packed for what?" He quickly blurted, "MONTGOMERY." To this day I have never formally interviewed for any job with Governor Riley.
One has to almost guffaw at the notion of young Jessica being impressed by Bob Riley's ability to be "gracious to the incumbent governor," Don Siegelman. Is it supposed to be difficult for the winner to be gracious, especially when the election almost certainly was stolen?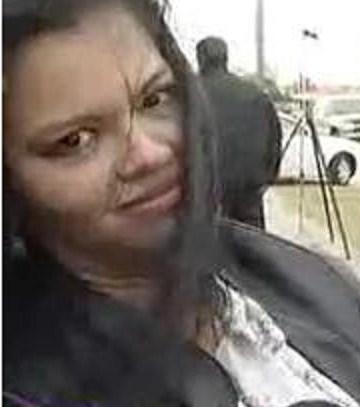 Liberty Duke
One also has to wonder what the deeply religious Jessica thinks about Rob Riley's extramarital activities with an Alabama lobbyist named Liberty Duke. The fallout from that affair might be of particular concern to the "pro family" crowd at Briarwood Church.
Before long, Bob and Patsy Riley decided to play matchmaker. Writes Jessica Taylor:
Working for Governor Riley brought many amazing memories, meeting great people and traveling the world. I was fortunate to travel to places like Hawaii, France, England, Ireland, Japan, China, Hong Kong, South Korea, and cities all over the United States. A few of my favorites were the Republican Convention in New York, the Farnborough Air show in Paris, an Economic Development trip to Hawaii, and visitng the CAFCO plant in China. Some amazing people I met were President Bush (3 times), Laura Bush, Condi Rice, Tony Snow (who sadly died of cancer a short time after I met him), Shaun Hannity, General John Ashcroft (in the President's box at the Kennedy Center), John McCain, Sean O'Keefe, and many others.
My favorite memory of working for Governor Riley is meeting my wonderful husband, Hal Taylor. We met on the campaign trail, and Governor Riley set us up on our first date. He takes all the credit for our marriage, and admitted it at our wedding. We were married on August 27, 2005. I will have another blog on that later.
What is the role of government in American life? Jessica Taylor has a curious take on that:
You see, July 4th is my favorite holiday. I love it more then any other. My father graduated from the Naval Academy in 1969 and served our country for many years. I burst with pride every July 4th when I see my father stand when "Anchor's Away" is played during the July 4th service. That is why it is my favorite holiday. I have a lot of pride in our country. We are so blessed to be founded by men and women who believed Scripture to be God-breathed, God to be the Triune God, and the sanctity of life. Those same men and women fought for me so that I can openly read that divine written book whenever I please. No other nation in the world can claim this heritage. I am so thankful for it, and thankful for God's grace in allowing me to be born and reared in America the Beautiful.
Members of our armed forces have fought so that we can read the Bible whenever we please? I'm sure that would be news to many historians--and to many men and women who have served in uniform.
Surely Jessica Taylor would agree with us that governmental affairs should be conducted honestly and fairly, without undue influence from certain powerful figures? Surely she would agree that VictoryLand and owner Milton McGregor are entitled to a fair hearing, based on the law and the facts, for its liquor-license application? And surely that means the decision should not be influenced by Bob Riley, who has spent years and huge sums of taxpayer dollars trying to ruin McGregor's business?
Regardless of what Jessica Taylor thinks, we soon should learn a lot about the integrity, or lack thereof, at the ABC board.