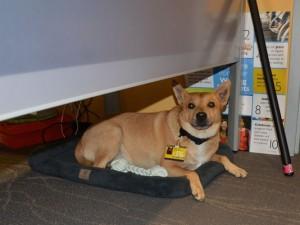 A therapy dog named "Jersey" has found a job across the river in Philadelphia.
Drexel University has become the first in the country to host an on-site therapy dog in its recreation center year-round.
Colleges are beginning to use therapy dogs to help students cope with stress, but few have dogs on campus full time. Studies show dogs can reduce blood pressure, lower anxiety and aid with depression in students.
"I wanted to show that you can come here and relieve stress by exercising or petting a dog," said Jersey's owner and sponsor, Kathryn Formica, coordinator of student fitness and wellness at the Drexel Recreation Center.
"You don't need to wait until you're stressed; you can come in and constantly work on managing stress."
Jersey, an adopted Carolina blend and a certified therapy dog, is available to students two days a week. He was adopted from Delaware County SPCA and underwent two months of therapy training.
"We try, for his sake, to only have him engage with students for a few hours at a time, but we're going to need to accommodate the mass need," Formica said.
The dog's owner, who did not name her canine, also likes to think the pup isn't named after the Garden State, but rather an athletic jersey.
"I think it's a good fit," Formica said.
"We're saying that's what he's named for because people think it's the state and he gets a lot of (flak) for 'Jersey.' "
~Via Courier-Post
Tags: college dog, Drexel therapy dog, stress dog, Therapy dog