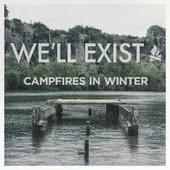 Continuing to build their growth in a similar way to their soaring layered instrumentals, Croy's Campfires In Winter ratchet things up another notch with their next single We'll Exist.  Things all seem to be falling into place for the band, who excel in loud-quiet-loud songs, with their recent live exploits taking them to Liverpool Sound City for their first gig over the border, and up to Brew At The Bog.  Which is all very well timed to coincide with Monday's release of their brand new single.
We'll Exist has cropped up in the bands live sets for a while, so it's great to see the track get a release.  Boab's guarded lyrics hint at self doubt and uncertainty; "If I could swallow all this pride, I'd let you see these eyes", before the chorus explodes.  It's the kind of shadowy song writing which one might expect from James Graham, The Twilight Sad of course not a million miles away in terms of influences.
The video for the single is online now, and features BAFTA award winning actress Daniela Nardini.  The single itself is out on Monday and can be pre-ordered now on iTunes.