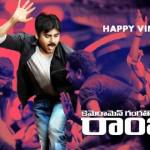 Power Star Pawan Kalyan, director Puri Jagannadh and music director Mani Sharma have each individually given some stunning albums. Combination of Pawan Kalyan and music director Mani Sharma, similarly combination of Puri Jagannadh and music director Mani Sharma has yielded terrific results musically. For the first time they are coming together for an album and naturally the expectations too are pretty high from the album. Let's see if they have delivered or not.
The album starts off with theme song which we have heard for some time now and probably because of that reason it has grown on us. Pillani Choosthe is typical commercial Mani Sharma song which we have heard many times before. It has some nice beats especially in the second interlude, but nothing beyond that.
Melikalu, Extraordinary and Joramochindi are 'differently tried yet routine sounding' kind of songs which have extended beats just for on screen choreography and steps. Of course these are better than a routine heard before songs without any attempt for variety at all. Taladinchuku has very straight forward lyrics with absolutely no subtlety or poetry preventing it from repeated hearings.
As said at the very beginning we had very high expectations because of the combination and hence the output has been disappointing to put it mildly. Most of the songs seem to be made for onscreen enjoyment rather than for listening pleasure. Still there are bits and interludes in some songs that have an instant likeability which might find favor with the fans.
Picks of the album: Melikalu, Extraordinary, Joramochindi
Rating: 2.5/5

Rating: 0.0/
5
(0 votes cast)