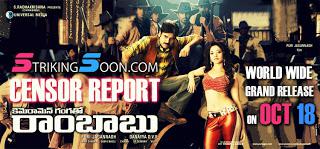 CBFC Rating : U/A
Run Time : 2:29:00
Plot :
It seems director Puri Jagannath had a great love towards the media. Most of his movies targets media in at least one scene. He created some controversies too by spotting some dialogues against media in Neninthe and Pokiri. Where as his love was portrayed with the hero as media reporter in Desamudhuru and heroine in Sivamani. Now, he is back with Powerstar Pawan Kalyan as a channel reporter who brings a political revolution in the society.
Censor Analysis:
Starting with the voice over the movie shows the political era in the country, how the changes took place.

Here enters the mechanic Rambabu with a massive fight in controlling a gang fight evoked by the anti-social elements.

Pawan Kalyan characterization is simply superb. The levels of heroism is shown at peaks. Dialogues can make the fans go crazy.

Tamanna is damn sexy. She mostly appeared in jeans through out the movie. Her character is etched well too. She appeared like a Rowdy Rani in this movie which is funny.

Brahmi, M.S.Narayana and Ali did well upto their parts. Comedy is simply superb. Puri Jagannath is back with his mass comedy to entertain the youth audience. Some masala jokes are quite enjoyable too.

First half of the movie is enjoyable with bunch of comedy episodes embedded in the story without any side track. Interval bang is okay.

Prakash Raju with the name Rana Babu appeared as the son of Kota Srinivas Rao, who is corrupted politician involved in lot of scams. The war between this politician and reporter is the theme of the story.

Bringing up all these scams before the public Rambabu turns to be the abnormal power. A single press meet made by him before the media turns him into celebrity.

Finally, he gains support from the vast public and wins over the anti-social tasks.

Climax is the best part of the movie, it is going to show the real heroism at peaks.
Cuts :
Tamannah's dialog G___ Pagilipoddhi was beeped.

Raajakeeyalu ante sukham kadhu votelu kosam naana S____lu naakali.
The best part is it was the first time that Puri jagannath's movie was given U/A with no cuts in the movie from last 6 years. Songs are simply superb and dances are impressive.
Final Word :
As TAGORE for Chiranjeevi, its now CGR for Pawan Kalyan.