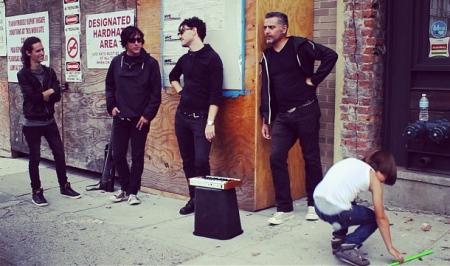 Brooklyn pop band Camera2 are about sound and vision. Just About Made It is the title track of their forthcoming album, with a nine-year old starring in the video running through the streets of NYC. The band didn't bother to get a permit and trusted on the resourcefulness of director Josh Stoddard to pull it off.
Camera2 consists of four seasoned musicians. Andy Chase (Tahiti 80/Juliana Hatfield/Smashing Pumpkins), Michael Jurin (Stellastarr*), Aric Gillis (Teenage Kick), and Williams (Teddybears) bonded over a shared craving dark-themed slow electronic indie rock.
The band created videos for all the tracks of the album all starring the kid and shot in rural Pennsylvania, Martha's Vineyard, San Francisco, and NYC. The next one goes live on December 17th.
Camera2:
Andy Chase: vocals
Michael Jurin: guitar
Aric Gillis: bass
Mike Williams: drums
Just About Made It can be downloaded for free through soundcloud.com.