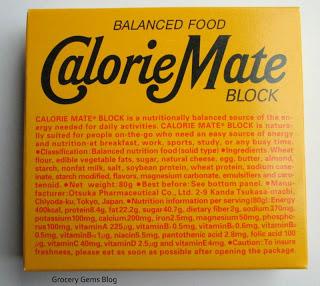 This was a strange one to me when it arrived in my Oyatsu Cafe parcel. This Calorie Mate block is packaged in an almost retro looking, stark wrapper, with lots and lots of small writing describing it as a source of nutrition and energy. Calorie Mate is actually a very popular nutritional biscuit in Japan, which is mainly used as an energy boost or meal replacement tool. Inside the block are four foil wrapped cookies, each with 100 calories and packed full of 11 types of vitamins, six types of minerals and protein, alongside balanced amounts of fat and sugar. They're available in several different flavours including; cheesecake, chocolate and fruit.



Some gamers might recognize Calorie Mate from the game Metal Gear Solid 3 in which it featured as a food item that would fully restore the characters' stamina! Thanks also to some awesome adverts featuring Kiefer Sutherland in full on Jack Bauer mode, Calorie Mate has developed somewhat of a cult status amongst snackers too.
In fact, before I go any further, just go ahead and watch one of the adverts. This one features Jack Bauer dealing with that most stressful of situations - a packed underground (subway) train! You go Jack!

It looks a lot nicer on that subway than the London Underground at rush hour, that's for sure!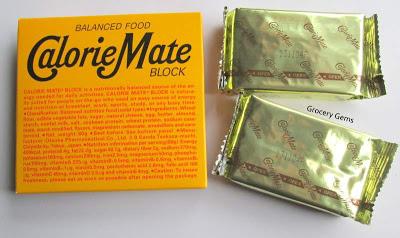 Inside the Calorie Mate box, or rather block, there are two gold wrapped packs, with two cookies in each pack. The biscuits look like shortbread and have a similar texture too, although it's slightly more crumbly and soft.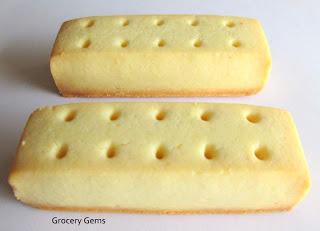 The flavor is very unusual on first bite, mainly because the flavor is somewhere between a sweet and savoury biscuit. There is definitely a cheese flavor in there, but it's coupled with an underlying tangy sweetness that does make me think of cheesecake.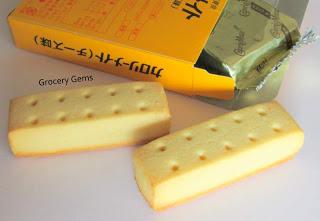 The best way to describe the flavor is as a savoury cheesecake flavoured shortbread! Very unusual but nonetheless interesting! I think the chocolate version would be a great one to try next.


Don't forget there is 15% off your order at Oyatsu Cafe if you use the discount code:

 "GROCERYGEMS"

This is available for all orders internationally and with no limits. See HERE for more details. 
This product was very kindly sent to me by Oyatsu Cafe for review but all views are my own. I don't receive any compensation if you order from Oyatsu Cafe or use the above code.
Grocery Gems Verdict: Calorie Mate
RATING: 6.5 out of 10.
Buy them again?: I'd definitely like to try out the other flavours.Purchased

:

 Available from Oyatsu Cafe. Check out their full Calorie Mate range. 
Price: $3.24 (approx. £2.11).