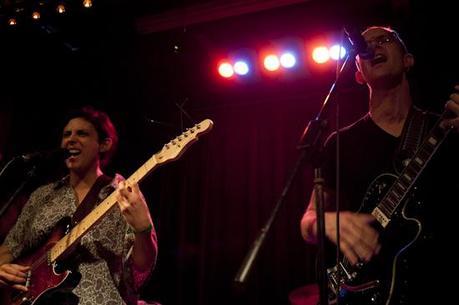 Photo Credit: Lexi Namer
Brooklyn via New Orleans art pop duo Callers (@callersband) celebrated their recent signing to Partisan Records with a performance at Union Pool last week. The group had the crowded room standing at attention, as they previewed songs from their forthcoming LP Reviver, due out October 9th. Lead singer Sara Lucas used her powerful, Joni Mitchell-esque voice to command the audience, swaying onstage and exuding swagger. Bandmate Ryan Seaton contributed vocals as well, though his primary duty was orchestrating the band's diverse polyrhythmic textures that delved into jazz and psychedelic rock.
This show was one of the band's first with their current lineup, featuring Keith Souza and Seth Manchester (production duo Machines With Magnets), and, as expected, they were still working out some of the kinks — not all songs translated as powerfully as they do on record. The highlight of the night was when the group brought out friend and collaborator Delicate Steve. His guitar playing was magnificent, performing music from the 7" release they created together.  "Perfect Pairs" was also a particularly great tune.