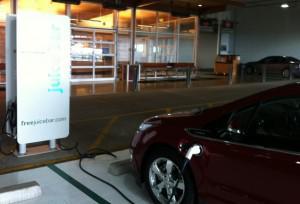 On Friday, California's Governor, Edmund (Jerry) Brown signed an executive order that aims to have 1.5 million zero-emission vehicles (ZEV) in the state by 2025. In order to accomplish this, a network of charging stations will need to be installed throughout California. While electric cars are only one possible way to reach the goal (fuel cell vehicles achieve the same zero-emissions goal) EVs have reached commercial viability. While models like the Tesla Roadster and Nissan Leaf are more expensive than internal combustion engines, the state's high fuel costs – which are highest in the continental US – provide fertile ground for electrification of cars.
Funding for the stations will come from a $120 million settlement with NRG Energy Inc. The charging network will include "at least 200 public fast-charging stations and another 10,000 plug-in units at 1,000 locations across the state. The settlement stems from California's energy crisis."
According to the Governor's office, the settlement dates back to claims from 10 years ago. The Los Angeles Times reports the "accusations of inflated costs on long-term power contracts involving plants co-owned by NRG" led to the payout. A majority of the settlement, $100 million, will be used to fund the network at no cost to taxpayers. The network, which will be fee-based, "will be installed in the San Francisco Bay Area, the San Joaquin Valley, the Los Angeles Basin and San Diego County."
The Los Angeles Times reports that "the station can add 50 miles of range in less than 15 minutes of charging." Electric vehicle owners will be able to sign up for a monthly subscription to use the stations or pay per individual charge, which according to the story will be in the $10-15 range. As a further testament to California's leading position on ZEVs, the story cites a figure from Nissan indicating that more than 40% of the 11,000 Leafs sold thus far are registered in California.
Governor Brown's executive order comes on the heels of the California Air Resources Board (CARB) decision, which "voted to require the largest automakers to derive 15 percent, or about 1.4 million, of their annual California sales from electric vehicles and other zero or near-zero emissions vehicles by 2025." For more on the decision, read this article from last month.
The Executive Order issued today by the Governor sets the following targets:

• By 2015, all major cities in California will have adequate infrastructure and be "zero-emission vehicle ready";
• By 2020, the state will have established adequate infrastructure to support 1 million zero-emission vehicles in California;
• By 2025, there will be 1.5 million zero-emission vehicles on the road in California; and
• By 2050, virtually all personal transportation in the State will be based on zero-emission vehicles, and greenhouse gas emissions from the transportation sector will be reduced by 80 percent below 1990 levels.
[Image source]