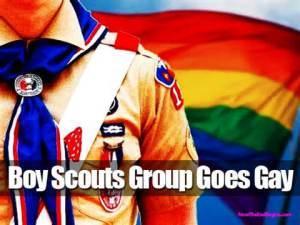 California Senate votes to revoke Boy Scouts' nonprofit status
Sac Bee: Even as the Boy Scouts of America moves to allow gay youths to join its troops, the California Senate on Wednesday passed a bill that would revoke the organization's nonprofit status because it does not permit the participation of openly gay adults.
"They are out of line with the values of California and should be ineligible for a tax benefit paid for by all Californians," Sen. Ricardo Lara, D-Bell Gardens, said as he introduced his bill. "SB 323 brings our laws into line with our values."
The measure calls for revoking the tax-exempt status of youth groups that discriminate against participants on the basis of sexual orientation or gender identification.
While the text of the bill does not specifically mention the Boy Scouts, analyses of the legislation and discussion among senators Wednesday made clear that it targets the organization.
"We've given the Boy Scouts ample time to solve their discrimination problem. And they've chosen a path that still leads to discrimination," Lara said of the organization's recent vote to allow participation by gay youths.
"While it is a step in the right direction, continuing a ban on (lesbian, gay, bisexual and transgender) adults is based on absurd assumptions and stereotypes that perpetuate hate and homophobia. What does this mean, that up until 17 you're fine to be in the Boy Scouts but on midnight of your 18th birthday you turn into a pedophile or a predator? What kind of warped message does this send?"
The bill passed the state Senate 27-9, receiving the bare minimum of votes required. It needed two-thirds support because it changes California's tax code. Three senators did not vote: Democrat Rod Wright and Republicans Anthony Cannella and Bill Emmerson. The bill now advances to the Assembly.
Lara promotes himself as the first openly gay person of color to be elected to the California Senate. Last week, he was one of 10 gay government officials from across the country to receive an award from the White House for being "Champions of Change."
These Commies in charge will never be satisfied. They are punishing an organization simply because the Boy Scouts don't fully endorse their lifestyle. Next thing you know is the state will be going after churches, no doubt.
DCG