Welcome to 74 Lime Lane. Take a look around. You'll find popular categories in the sidebar on the right. If you like what you see you might want to subscribe to the RSS feed and the regular Lime Time newsletter. Thank you for visiting!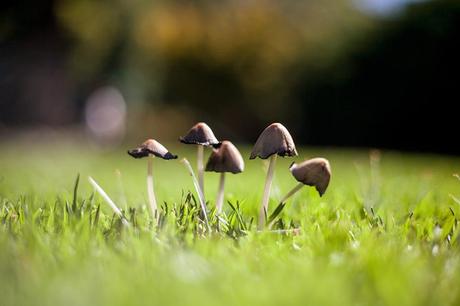 Pinch and a punch for the first day of the month!
M is for May and for mushrooms this month. You can tell the autumny weather is here when these start sprouting in the lawns.
May is an exciting time in our little family ~ two birthdays, including a milestone one for me [party already well in the planning stages!], and it's Mother's Day.
There's lots of other stuff happening in May around the world, too.
No other month begins or ends on the same day of the week as May in any year. This month is the only month to have these two properties.
The month May was named for the Greek goddess, who was identified with the Roman era of fertility, whose festival was held in May.
May 1 is May Day in many countries. This is also celebrated as Labour Day. May 1 is May Day in Britain, however the public holiday is held on the first Monday in May.
The night before May 1 in Germany it is an old custom to plant a "Maypole" to honor someone. Often young men set up an adorned birch in front of their girlfriend's house. Isn't that romantic?!
For movie buffs and book worms : May 4 is considered to be Star Wars day for "May the fourth be with you" sounding similar to "May the force be with you" and May 25 is Towel Day, in tribute to Douglas Adams, author of The Hitchhiker's Guide to the Galaxy.
May 5 is Cinco de Mayo, which is a celebration to commemorate the cause of freedom and democracy during the first years of the Civil War and is observed as a celebration of Mexican heritage.
May 11 will be Mother's Day here in Australia and the US.
It's time to get on yer bike with Bike Week marked internationally in the second week of May.
And it's Eurovision month!
May's birthstone is emerald, emblematic of love and success, and its birthflower the lily of the valley.
Download the vertical calendar / horizontal calendar