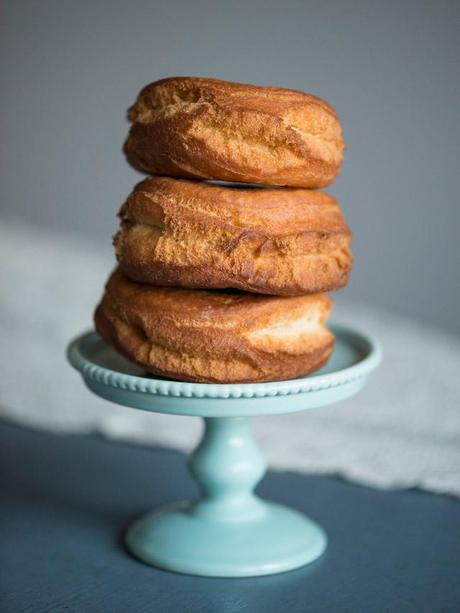 Today is a busy day. I have a photo shoot scheduled at eleven. A meeting at the bank around two. There is no food in the house for lunch, which means I also need to squeeze a trip into Whole Foods between Lucy's naps and are other engagements. On mornings like today, I wake up and struggle to remember what "free time" looked like in my life.
I'm not complaining because I feel blessed with a wide set of interests and passions. I'm happy I have such a rich circle of friends. But I am wondering: how do I foster stillness in my days? Because last night, after Ryan had fallen asleep, I held Lucy in my arms for what must have been an hour. She slept peacefully on my chest and I just watched the minute movements of rest: the twitch of an eyebrow, the gentle rise and fall of the torso, the sweet sucking of her lips. I need more moments like this, I thought to myself. No agenda. No plans. Just an hour to watch my daughter in all of the wonder of her childhood.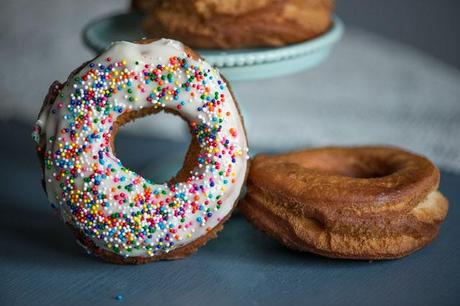 One thing that always slows me down is baking. I bake when I need time to decompress, to think, to grieve, to heal. On Tuesday, my eleven-year old niece came over after a rough day. I had spoken to my sister a few hours earlier, and so I  already knew the background of the situation. After several minutes of "talking it out," I knew we needed to do something with our hands. We needed a physical activity that occupied both our bodies and our minds, allowing the uneasiness of the situation to take a back seat. And so we made these donuts. Somehow, with Lucy strapped on my chest, we found a way to make the dough, to cut the shapes, and then to fry the donuts. (I would have found this entirely impossible my first month of motherhood).
And friends, these cake doughnuts did us all good. They fry up beautifully (and this comes from a woman who as of two weeks ago was TERRIFIED of frying anything). These aren't particularly sweet. The exterior is slightly caramelized and crunchy while the interior is both moist and dense. Exactly what you want from a cake doughnut. As with all fried food, these are best enjoyed the day, no the hour, they're made. So perhaps Saturday or Sunday morning, you'll find an hour or two to make a batch of homemade cake doughnuts. And if you do, I hope you love them as much as we do.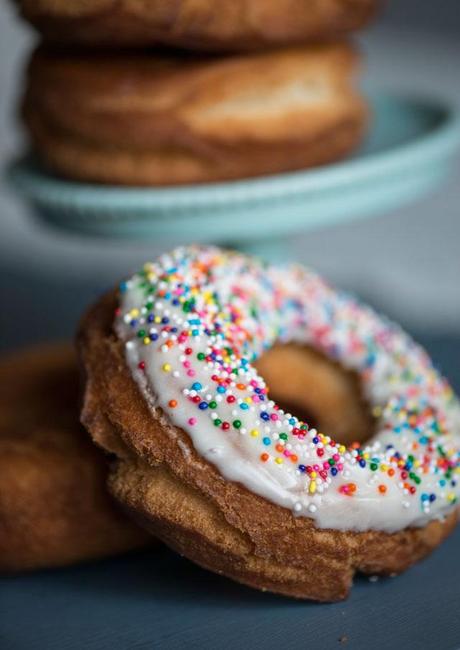 Cake Doughnuts
1 cup sugar
4 teaspoons baking powder
1 1/2 teaspoons salt
2 eggs
1/4 cup unsalted butter, melted
1 cup whole milk
4 cups all-purpose flour
Oil (for frying)
In a large bowl, whisk together the sugar, baking powder, and salt. Add eggs, milk, and melted butter. Beat until smooth. Add flour and stir with a large wooden spoon. The dough should be soft and sticky but firm enough to handle. If necessary, add an additional 1/2 cup flour). Cover bowl with plastic wrap and allow to chill for 30-60 minutes.
Remove dough from refrigerator and begin to heat about 1 inch of oil to 360 degrees Fahrenheit in a large metal skillet. You can tell oil is hot enough if  a small piece of bread fries to a golden brown within ten seconds.
Working with half the dough at a time, roll it out on a floured surface to 1/2 inch thickness. Cut out circles using a doughnut cutter or one large and one small biscuit cutter. Gently drop the doughnuts into the hot oil (I fried about three at a time). Flip them over as they puff and turn them a few times as they continue to fry. They should reach a deep golden brown within 2-3 minutes.
Remove doughnuts with a slotted spoon and allow them to drip on a wire cookie rack (with paper towels beneath). If desired, you can douse them with cinnamon-sugar or a simple frosting (1 cup powdered sugar with 1-2 TBSP cream). Best enjoyed fresh.