Sudbury, ON's Andrew Hyatt has taken the next step in his career as a rising star in country music with the release of his new EP, Cain.
After the love that country music fans and the community gave to Hyatt's 2017 album, Iron & Ashes, the anticipation for Cain has been high. And he delivered. The 2018 SiriusXM Canada Top of the Country winner has a collection of six songs put together on this new album that showcases the same passion and talent that we know, with a little something more.
There's a sense of reflection and personal growth on the songs here. Tracks like Heaven Guessing, You And Me Town, and My Kind Of Crazy show the kind of introspection that country music is best at delivering. Here's the thing though, putting those songs together, and performing them with honesty and genuine feeling isn't the easy way. And as much as we love a good drinking party song, this is what we're here for.
On Cain, it feels like Andrew Hyatt is leaving it all out on the floor. His heart's on his sleeve. He's laid himself bare. And he's offering it all up to music fans to take in.
We've had glimpses of this EP with the release of Top 15 single Habit, and now My Kind Of Crazy. And, in his live shows this summer at the Budweiser Country Throwdown and Boots & Hearts, we heard You And Me Town in his set as well. The new tracks have fit right in with his library, which again, is a testament to the quality of these songs.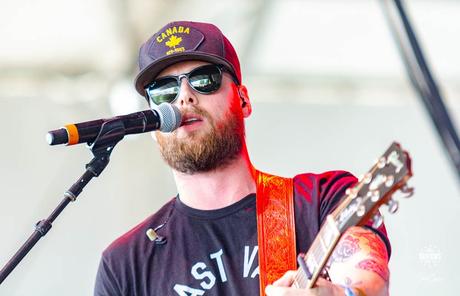 With faith, sin, love, memories, reflection and more all on the table, Cain covers a lot of ground in just six songs.
If we had our way, there'd be another six songs and 20 minutes on the album. But, according to Andrew in our conversation at Boots & Hearts this summer, there is more new music coming.
For now, we'll hit play on Time For Lovin' You and follow along with all of the emotions, stories, and vulnerability that flow through until the last notes of Habit. And then we'll play it again.
We suggest you do the same, and learn the words so you can sing along and show Andrew Hyatt some love when he rolls through Canada on tour with Dean Brody on the Dirt Road Stories tour, and then with Tim Hicks and Tebey on the Get Loud tour. We don't know what Mr. Hyatt's setlists are going to look like, but we'd bet that you're going to hear some of this new music.
Now, press play and enjoy!
Andrew Hyatt Cain Tracklist