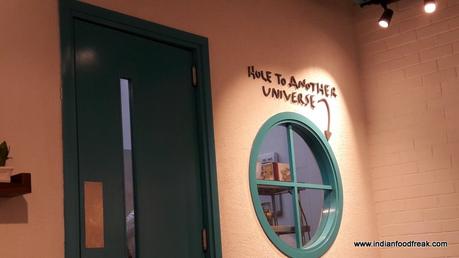 Cafe's have gained popularity over the years and an increasing number of them opening frequently proves they certainly are in demand. Cafe's somehow have a more relaxed ambience, a place where one has a good cup of coffee, tea, some nice light eats along with a choice of refreshing drinks where one can chill out over some chitter chatter with friends which probably is meant to be the concept.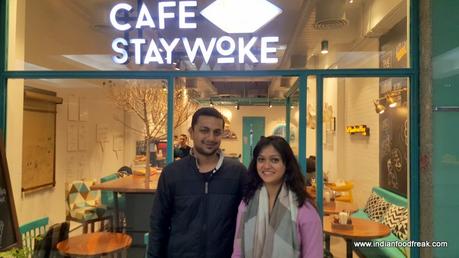 With the low success rate in the restaurant industry there aren't many professionals who want to join the bandwagon. Especially those who can afford well paying jobs after passing the full time MBA course from the prestigious IMT Ghaziabad. But this young couple, Manali & Abhinav are an exception. They wanted to start a Café and decided that the best time to do it is NOW and not when they are nearing retirement. Hence their dream project Café StayWoke was born at South Point Mall at Gurgaon around 3 months ago.
The theme of the Café StayWoke is millennial and comfortable seating. The detailing can be seen on the paintings on the wall, the way the menu has been designed and curated and how the young couple is always present to welcome diners and take their feedback. I visited here atleast 3 times on a personal visit before I decided to write this review. The interiors wear a relaxed neat look in colors of off white and green with nice effects in wood. Various board games are available too at the Cafe to add to the entertainment factor while enjoying the drinks and eats. The food is Gourmet casual with global flavours and Indian influences. The meeting of both these influences makes for a very interesting menu for a Cafe.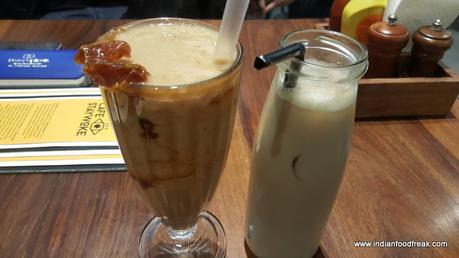 The menu of Café StayWoke has been done by Chef Tarun Sibal and I must say that it is very impressive. From childhood favorite campa milk to egg specialities to pastas and some specialities from main course, the menu is compact but has something to offer for every taste bud.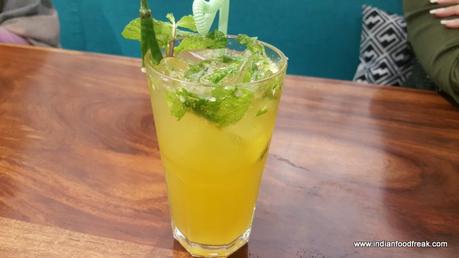 I start with mango and chilli mojito which is quite an interesting innovation and unique combination. The kind of drink i'd like to have as and when i visit the Cafe. Ragi upma at Cafe Staywoke is a must try. Ragi as most people know is considered an important part of a  healthy diet these days. But to make something healthy and tasty is a trick which has been managed very well by the Cafe. It was tasty and and worth every bite.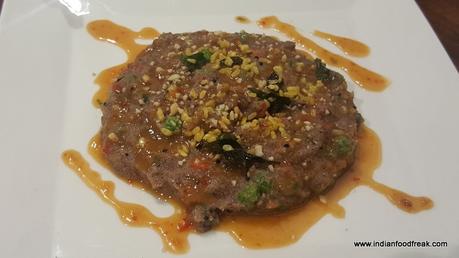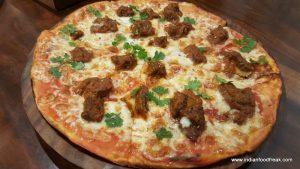 They have a decent variety of egg dishes on the menu for egg lovers. I chose to try the Tuscan scrambled eggs as not every place does a great job with scrambled eggs. My first bite into it and i get reminded of how it is prepared at most of the clubs from Britishers times. Cooked to perfection. The Lamb taka tak pizza is another must have. When the pizza crust is right you know you've been served a good pizza. The topping of lamb and the flavours ofcourse added to making it a delicious eat.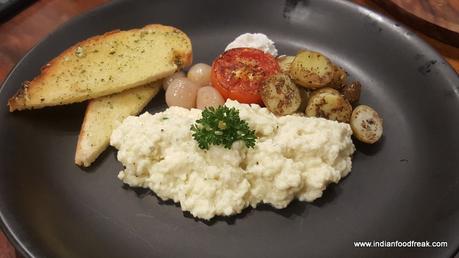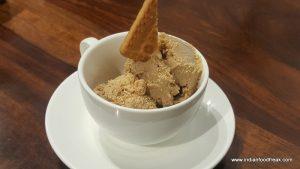 It's time for desserts and I go for Eggless semifredo with citrus peels and vanilla ice cream along with Chai Kulfi Parle G. Semifredo which is an Italian creation beats ice cream to it when it comes to desserts. However served with citrus peels and ice cream along it sure is a treat to it. The latter would sure catch the interest of many as the combination of chai and Parle-G has been such a part of most of us since childhood. The kulfi though unique could have had a more prominent flavor of tea.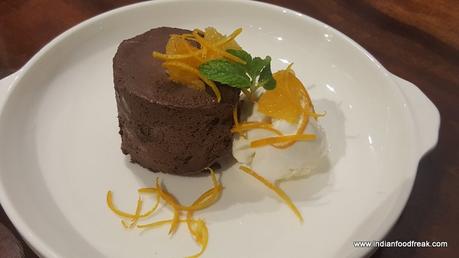 I end it up with very interesing Pinewood smoked tea coming from Anandini tea led by tea specialist Anamika Singh. Her teas have never failed to impress me.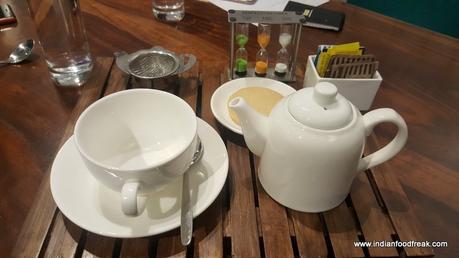 If you dream of something you have got to work hard towards achieving the same. From the nice neat interiors to the tasty food, the hard work put in by the duo shows. It is not one of those run of the mill Cafe's but a place that has what it takes to make it a success. If tasteless food takes you away from a place, tasty food will take you back to a place again and again. Staywoke in my humble opinion will have that effect on a guest.
Ratings (Out of 5)
Food: 4.0 | Ambience: 4.0 | Service: 4.0 | Overall: 4.0
Meal for Two: Rs 1000  | Wheel Chair Friendly: Yes | Credit Card: Yes | Alcohol: No
Address: Cafe StayWoke, 1st Floor, Shop Number 104 ,  South Point  Mall , Golf Course Road, Gurugram , Haryana | Phone: +917703929965
Disclaimer: This review was done on an invitation from the restaurant. Due judgment and care has been applied by the author to remain objective and unbiased in the review, but readers need to consider this review keeping this fact in mind