I imagine it'd be difficult to be vegan in Paris. It would be for me, at least. There are simply too many non-vegan temptations--like cheese, and chocolate, and yogurt, and pastries. With that said, there are days when I crave cleaner eats than the standard French diet provides. Take yesterday: when, following a long morning in the 7th, I sought bobo refuge in the northern Marais to try the recently popularized Café Pinson.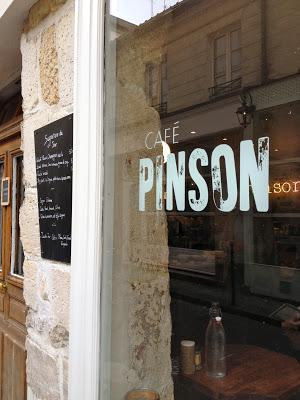 The late Fashion Week crowd was wrapping up their organic meals by the time I arrived. It was 2pm. I was starving. The smiling server at the counter helped me through the ordering process; with the formule, I was to choose an appetizer (soup/salad) and dessert. The plat chaud was pre-determined as there's only one main dish per day. Fresh juices and coffee were also available, but I chose to stick with tap water. Upon seating, I appreciated the fact that the carafe de l'eau had already been placed on my table, as it had on all the rest.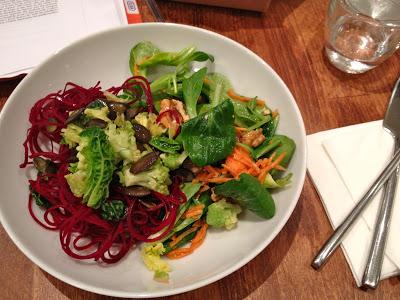 Though the menu itself isn't explicitely defined as vegan, most of the plates are. I began with a mix of the two salads of the day served alongside a box (a cardboard one) of bread. Then I moved on to a main course of "fried rice", onions, sweet potato, spinach, and cumin. And for dessert, a compote of orange and grapefruit--which, to be honest, was far too tart for my liking, but I suppose that should've been expected. Overall, the meal was filling yet light and energizing a.k.a. exactly what I'd hoped it be. Definitely worth the 17

€.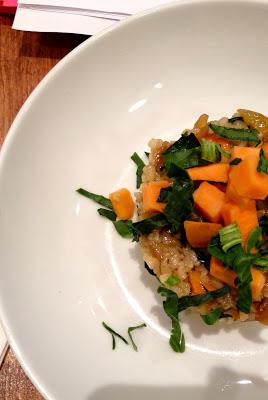 It was such an enjoyable solo lunch, too. The relaxed environment in the midst of "modern-vintage Parisian" décor ("San Francisco coffee shop" meets "cozy Scandinavian home") was perfect for a change of productive scenery. I'll be sure to make a reservation for their noteworthy brunch sometime soon. And while we're on the topic of veggie-centric dining, Paris' favorite raw restaurant, Pousse Pousse is also on my list...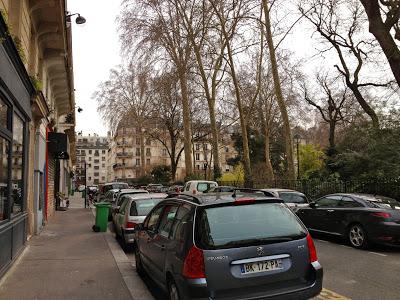 as is Bob's Cold Press. I tried to snag a few juices to-go this afternoon actually... yet failed to note they don't open until tomorrow. Oh well. At least now I know another place to go for my greens fix. Despite the fact that I tend to prepare vegetarian meals in ma cuisine and shop at the Marché Bio des Batignolles, extra nutrients are always appreciated; especially during midterms. If only could healthfully bake like Miss Olivia as well.