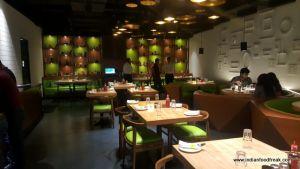 Interiors
Andheri West in Mumbai is fast becoming a potent food and beverage hub in the Western Suburbs. Before any of these new food hubs could open, it was the home to a shopping mall which boasted of the highest footfall in Mumbai in those days.
Despite having such a great footfall, Infiniti Mall in Andheri West only had a TGIF in terms of its fine dine restaurant apart from the other run of the mill food court options. A few months back the iconic TGIF shut its doors and a new restaurant came up in its place. Indian Food Freak went for a launch review of this place.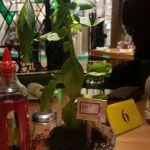 Micro greens and herb plants adorn each table
Mezzuna, as the place is called, is a Mediterranean inspired restaurant with a color palate which is bright and goes with the theme. The bar at the entrance which is yet to get its liquor license, sports a bit of tropical look with creepers and plants manning the front.
Service staff still seemed to be struggling with some teething problem as the first one who attended us, had absolutely no clue of the dishes.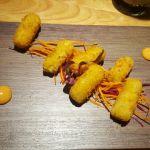 Potato Leek Cheddar Croquettes with smoked paprika aioli
Moving to the food, our first order was that of a Potato Leek Cheddar Croquettes with smoked paprika aioli (165) which was quite light and non-oily despite being deep fried. The slight piquant croquettes came 6 in a portion and I thought them to be quite a small serving to be shared amongst two. Grilled Cajun rubbed Basa (225) was too peppery and a bit spicy, I had to add a dash of lemon juice which brought out the flavours quite well.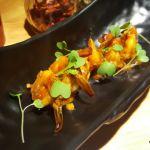 Pan Tossed Rosemary Garlic Shrimps in oyster sauce
Following this we tried the Pan Tossed Rosemary Garlic Shrimps in oyster sauce (295) which had sweet and sour flavours. The Shrimps were well cooked but the sauce seemed to be a bit heavy and rich. What seemed to stand out was that the portion sizes of all of these dishes was quite average in proportion to the price charged.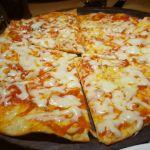 Four Cheese Pizza
The biggest disappointment of the evening was the Four Cheese Pizza (345) which had Scarmoza,Parmesan,Cheddar and Mozzarella cheeses. What made them so was the very average tomato sauce despite a fabulous base. The Sundried Tomato Mascarpone Cheese Risotto (325) on the other hand was much better and the use of Mascarpone Cheese instead of the usual Parmesan seemed quite interesting.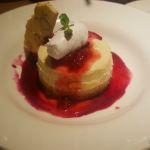 Philadelphia Cheese Cake
Of the Desserts, the Philadelphia Cheese Cake (195) was apt and lived up to its name while the Tiramisu (195), though smooth and soft, was left aside as the cream smelt stale.
Mezzuna has its heart in the right place and has done great with the décor which goes well with the theme. They certainly need to pay a bit more of their attention in the kitchen department as they have very stiff competition with some great restaurants that have opened up around the area.
Ratings out of 5
Food: 3 | Ambiance: 3.5 | Service: 3 | Overall: 3
Meal for Two with Alcohol: Rs. 2000 Inclusive of taxes | Alcohol: Yes | Credit Card: Yes|
Timing:  11 a.m.to 1 am | Wheelchair access: No
Address: Shop 261, 2nd Floor, Infiniti Mall, Andheri Lokhandwala, Andheri West.
Telephone : 022 33951517
Disclaimer : This review was done on an invitation from the restaurant. Due judgment and care has been applied by the author to remain objective and unbiased in the review; however readers may exercise their own discretion.