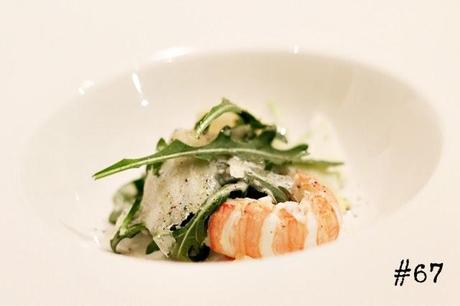 Caesar salad with arugula & langoustine
This is a small caesar salad but I´ve replaced the lettuce for arugula for a bit more spice and it´s lightly dressed, what you´re looking for is a bit fresher salad but still with the classic taste. I left out the croutons and  added a cooked langoustine tail that goes really well with a salad.
Caesar dressing2 anchovy fillets1 egg yolk1 clove of garlic1/2 cup neutral oil, for example rapeseed oillemon juice, salt, pepperolive oilwater1-2 tablespoons of grated parmesan cheese
In a blender mix egg yolk, anchovy and garlic. Slowly add the oil until the dressing is thick. Season with salt, pepper and lemon juice. Finally mix in the parmesan cheese. Add a few drops of water to thin out the dressing, it should be a bit thinner than ordinary.
arugula saladparmesan, shavedblack pepperlangoustine tails
Dress the arugula and plate, add the langoustine, add the shaved parmesan and season with black pepper.