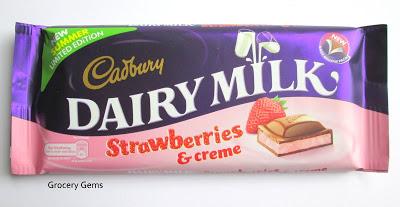 This is a new and Limited Edition summer release for the Cadbury Dairy Milk range which comes in a large 120g sized bar. At first I read the name "Strawberries & Creme" as the quintessentially British flavor choice for a summer theme, that of strawberries and cream. However, this is not actually a strawberries & cream flavor in the traditional sense, as the "creme" seems to refer merely to the nature of the filling rather than the flavor. The actual description on the back of the wrapper is "A YOGURT and Strawberry Flavour Filling". Quite a different thing altogether.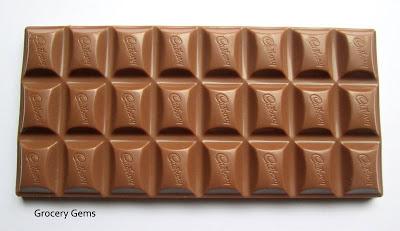 It's certainly a great looking bar, from the summery packaging, to the sleekness of the chocolate itself. There is no mistaking that this is a strawberry offering once the chocolate is out of the wrapper - the fruity scent is immediate, even though it's not the sweet strawberry milkshake type of scent that I expected.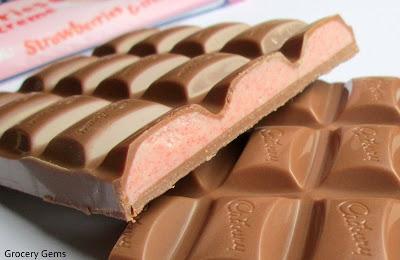 The inner filling has a slightly speckled pink colouring but is completely smooth in texture.  It's surrounded by a classic creamy Dairy Milk chocolate.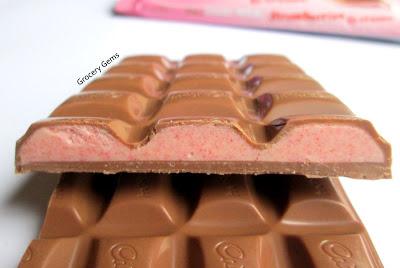 The strawberry filling has a wonderfully fruity flavor that is well suited to it's tangy yogurt backdrop. This yogurt has just the right amount of tangyness, it's not too tart or sour. Some strawberry chocolate can be VERY sweet but the inclusion of yogurt seems to help curb the sweetness. It's surprisingly easy to polish off a decent amount of this bar without hitting a sugar wall! Compare that to the strawberry filled chocolate from a Cadbury Roses selection, which is pure sugary sweetness through and through.



The Cadbury Dairy Milk Strawberries & Creme should perhaps have been named "Strawberry Yogurt"; after all, that seems to work perfectly well for companies such as Ritter and Milka. Despite the misnomer however, I found the Strawberries & Creme to be an extremely delicious chocolate and one that far exceeded my expectations.


Grocery Gems Verdict: Cadbury Dairy Milk Strawberries & Creme


RATING

: 8.5 out of 10.


Buy them again?: I'd love this to be available in a standard sized bar.


Nutrition (per 3 chunks)

: 8

5 cals, 5.3g fat, 7.8g sugars.


Vegetarian: Suitable for Vegetarians.


Purchased

:

 WHSmiths


Price

: £1.88p.