Cabbage rice recipe - simple one-pot meal to pack for lunchbox. Many of my friends frequently ask me to post easy lunch box recipes, especially for kids. Because it's a big deal making them eat veggies nowadays. If you prepare this rice with a hint of ghee, surely they will love it and its nutritious food too.Go through the health benefits of cabbage here. you can prepare carrot rice, beetroot rice peas pulao in the same way. cabbage has mild sweetness in it. When we make cabbage rice with Indian spices it tastes yummy. Don't miss out to try this easy cabbage rice.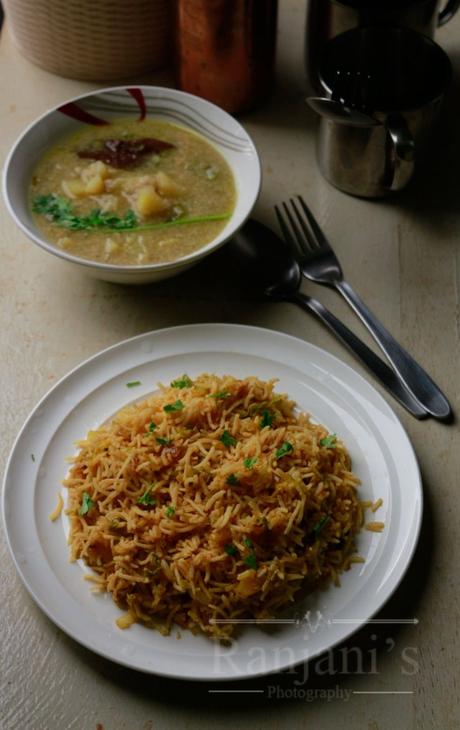 What to eat with cabbage rice recipe?
It is best to go with any raita recipes like onion raita, cucumber raita. For stew lovers, yes its best pairing with vegetable stew. or we can have it simply with pappads also.
Check out these rice recipes also:
How to make cabbage rice:
Wash and soak basmati rice for at least 20 mins.
Cook the rice and cool down after adding a tbsp oil
Heat a kadai, add oil and seasoning items. now add minced garlic in it and sauté well.
Add chopped onion, and green chilies and Sauté till the onion turns transparent.
Add finely chopped tomato to it and Sprinkle some salt and cook covered for a minute.
Once the tomato cooked well, add shredded cabbage and sauté in medium-low flame.
Add in the spice powders red chili and garam masala and give a quick stir.
You can add some more salt according to the taste and mix well.
After the cabbage gets cooked well, turn off the flame.
add the cooled rice and gently mix without mashing the rice
add some finely chopped coriander leaves finally.
Notes:
we can make this rice by adding vegetables of our choice like shredded carrot, chopped beans, and peas.
You can prepare cabbage rice with leftover rice as well.
(Visited 2 times, 4 visits today)