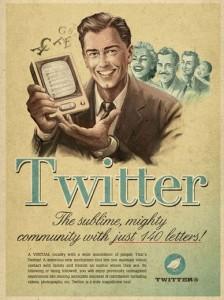 I'm at an awkward age. Young enough to cringe at fogey talk, but too old to recognize when I'm doing it myself. It helps that I have a husband who, when he reads one of my blogs that starts to enter old crank territory, will yell in to me, "Hey, Andy Rooney! You rock."
So, yeah, awkward age. I'm not too old to swim in the social media pool, but I don't look great in my two-piece anymore.
So it was with some trepidation that I decided to take out a small ad on Twitter. I had been Tweeting for a long time and was just starting to get it. Taking out an ad, however, was raising the stakes. It was going to cost me real money. Not a huge amount, but we're not talking bitcoin here.
I did it, though, and not surprisingly my results were grim. I figured I had done it wrong. I was right. I had set it up badly, didn't enter enough @words, my ad content didn't support my goal, and let's be clear here, I don't understand what I just wrote there. I wasn't even sure what my goal was supposed to be.
Then I got an email from Lena, a Twitter ad rep, who said she wanted to talk to me about my Twitter needs. She offered me a free 30-minute phone convo. My first thought was, "Oooh . . . no . . . you don't want to do this. You're young and probably really cute and spunky, and you obviously have a really great job. You don't want to ruin your cool, 20-something-living-in-San-Francisco, working-in-the-tech-field week by talking to a 55-year-old writer who just spent a third of her 2014 advertising budget on a $50 ad."
I have to hand it to Lena. She never once talked down to me. She gave me lots of great advice, didn't do a hard sell, and she even ventured outside the sales talk and suggested some ways I could be posting for better results. Best of all, she pretended to speak my language and only used the word "interface" once; "platform" twice.
The conversation made me wonder if Twitter doesn't have a Middle-Aged Mom Liaison, someone who advises the sales staff on the weird ways of the mom-jeans-wearing part of their clientele. I've been pushing for that over at Facebook for a long time and would love to have that job myself. Twitter might just be taking the forefront in dismounting from their high horse and acknowledging that their users aren't all hipsters or people with oodles of disposable income. Some of us are eking along the best we can, misusing hashtags, spelling out long words, and editing our posts for proper punctuation.
But some of us – not mentioning any names – have five more $10 bills to spend on social media advertising between now and Christmas. You can all get in line, because Lena @Twitter is leading the candidates to pocket it. (Did I use that @ symbol correctly, Lena?)
~ ~ ~ ~ ~ ~ ~ ~
Want to read more of Diane's Just Humor Me columns? She's been writing them since W was president. Sign up for our weekly e-newsletter and get new blog posts and other neat stuff. And if you like her blog, you'll love her book, Home Sweet Homes: How Bundt Cakes, Bubble Wrap, and My Accent Helped Me Survive Nine Moves.