Father's Day is coming - have you decided what to get the man who knocked you up, yet?
I have two very cool recommendations that are not too expensive. One I found and bought myself and one was sent to me for review this week.
The first is definitely going to make my man cry. It's a leather cord necklace with three sterling silver tags that each have the first initial of the names our children. I love it.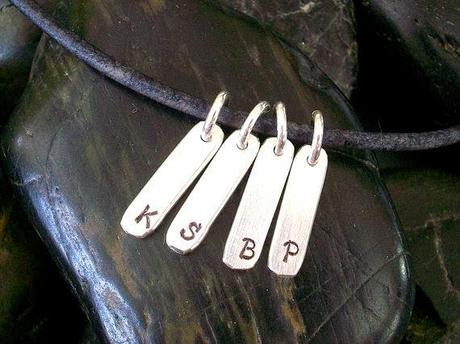 Etsy
My man is a rock star - literally - so the leather cord is right up his alley. But if your man isn't into that kind of thing there are a ton of personalized necklace options on Etsy. I just searched "Father's Day necklace" and a ton of stuff popped up. This one was $26.50. I just realized that he better not read this blog before Father's Day. I think I'm safe. 
The second thing he's getting is a bluetooth enabled speaker system by Kinivo. I got past the sexist pitch that insisted Dad would "geek out over the high-quality, room-filling sound" and I would love it for the "subtle, chic design that blends into any home décor" and decided to give it a try. It was really easy to hook up, and somehow, even though I'm a mom, I was able to hear that it sounds really good! Ha ha. You know I couldn't let that go. But it does look really cool - they're right:

Here's a photo of it sitting on top of our entertainment center: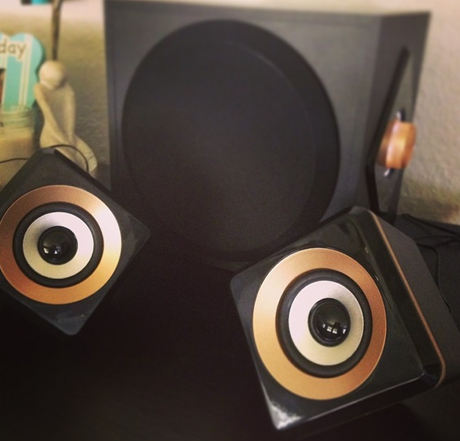 For a $70 sound system, the sound is pretty great. And unlike a lot of small bluetooth speakers, there's a subwoofer that actually allows you to control bass and treble. It was perfect timing, too - we just upgraded our phones to the iPhone 5s and they are no longer compatible with our Bose sound dock without buying some extra converter - which annoys me to no end. This connects to our devices via bluetooth - so we'll never have to worry about upgrading - well, unless bluetooth technology becomes obsolete.
Less than a 100 bucks and your Father's Day shopping done. Not bad.